New Features
Custom buttons
Now you can disable Appzi buttons and use your own buttons using data attributes or javascript.
This enables you to launch the Appzi widget from wherever you want like a menu or after a certain event.
There are two ways to do it
Option 1 : via data Attribute
This is the simplest method which will work in most cases – just copy the data attribute and add it to any HTML element. This method might not work if you have eventhandlers on parent which stop event propagation.

Option 2 : Open/Close the survey via javascript.
Use this option if the first one is not working for you or if you want fine control over the timing when the button is launched (like building and exit survey)
its smart to place a check to ensure the "appzi" object is initialised.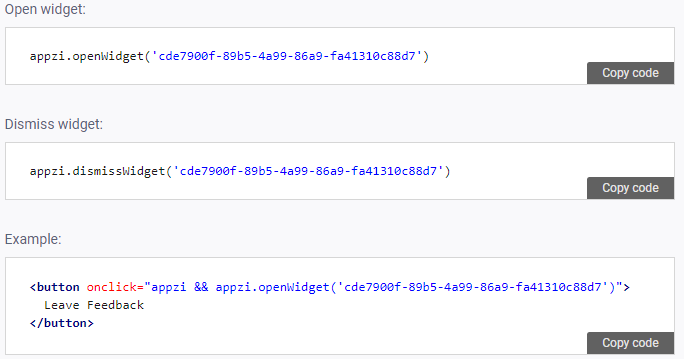 Feedback Widget: Removal of the Email Collection Step
Starting this version the email collection can be hidden in the feedback widget; the option is available under Survey/Email Collection option.