Why Choose Appzi over Hotjar?
Looking for a feedback collection tool but Hotjar is too expensive, complex or just simply too bland? Then you are in the right place!
What is Hotjar?
Hotjar is a product experience insights tool that gives you behavior analytics and feedback data to help you empathize with and understand your customers. Hotjar Ask, however, is the recent amalgamation of the Surveys and Feedback tools from Hotjar in contrast to Hotjar Observe which contains Heatmaps and Recordings. While Hotjar is well-known for the latter, the former was often overlooked and was a bit lacking in regards to competitors. That may be the reason why they decided to separate these products and update their pricing model based on the number of collected responses, starting from 20 responses/month for the free plan(Basic).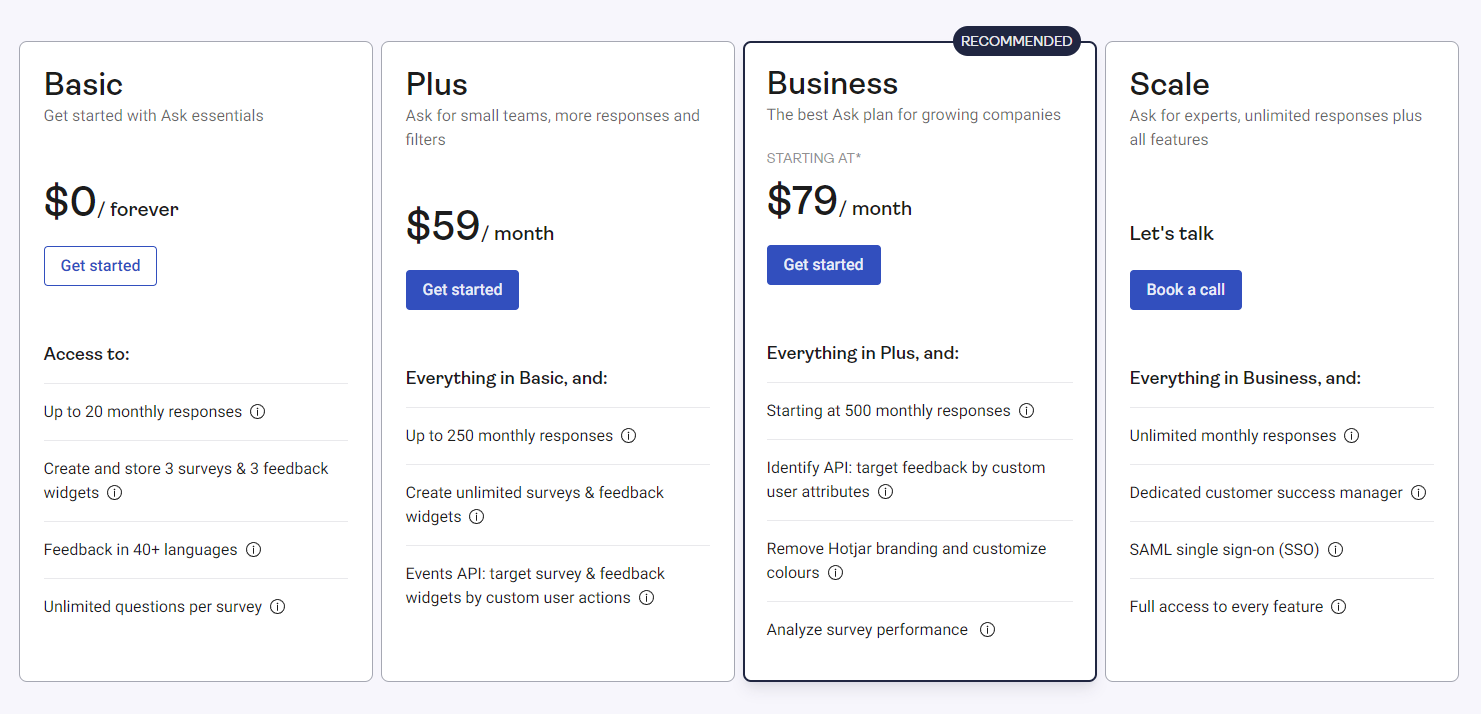 What is Appzi?
We created Appzi for businesses that share our passion for building better products and delivering valuable services. We're building a beautiful, easy to use, hassle free, and inexpensive feedback tool that will help you capture bugs, suggestions, and feedback about your product. Today Appzi is used by customer-centric organizations around the world, from small businesses to high-growth startups and nonprofits. We've been on this journey for several years now, but in many ways it still feels like early days.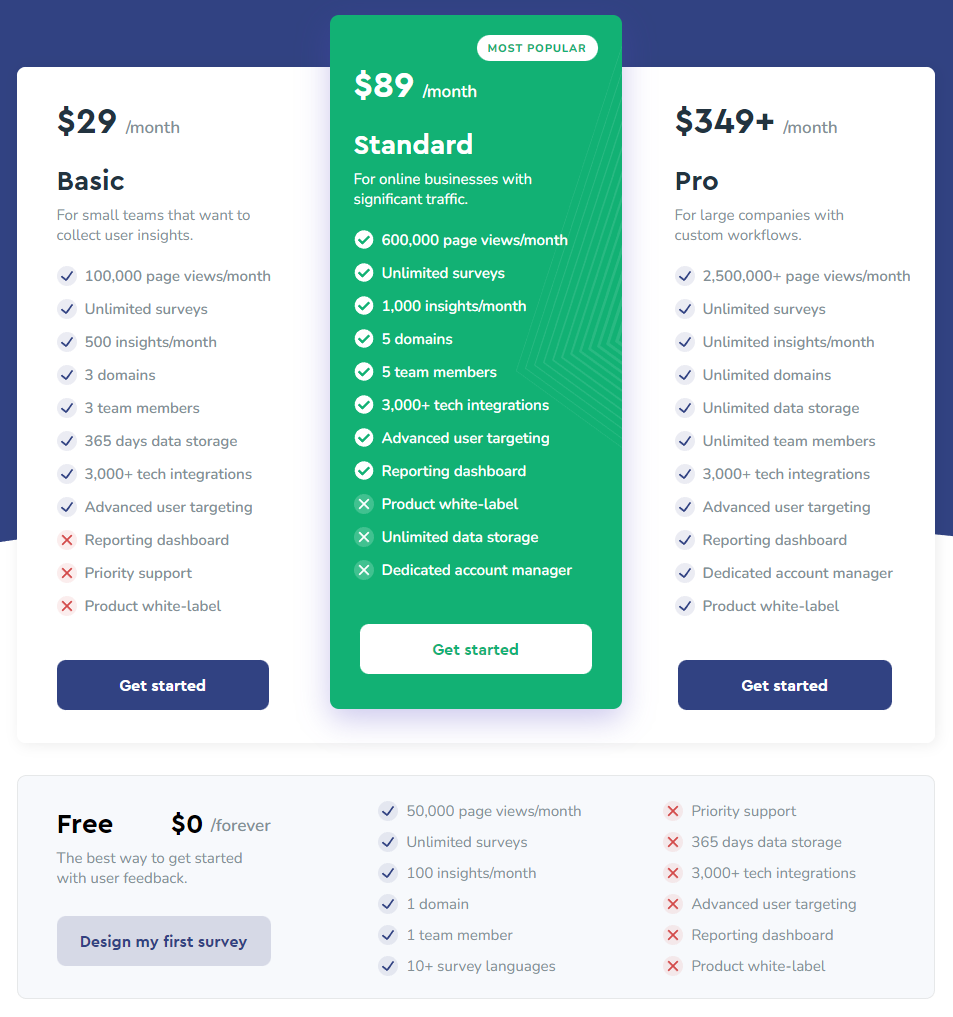 Here's a brief breakdown of the features we offer and a comparison with Hotjar Ask:
Surveys questions
Hotjar Surveys can be filled with a variety of questions like rating scales, NPS scales and checkboxes. Feedback widgets, on the other hand, have a fixed template which contains a 5 rating scale and an optional email request question.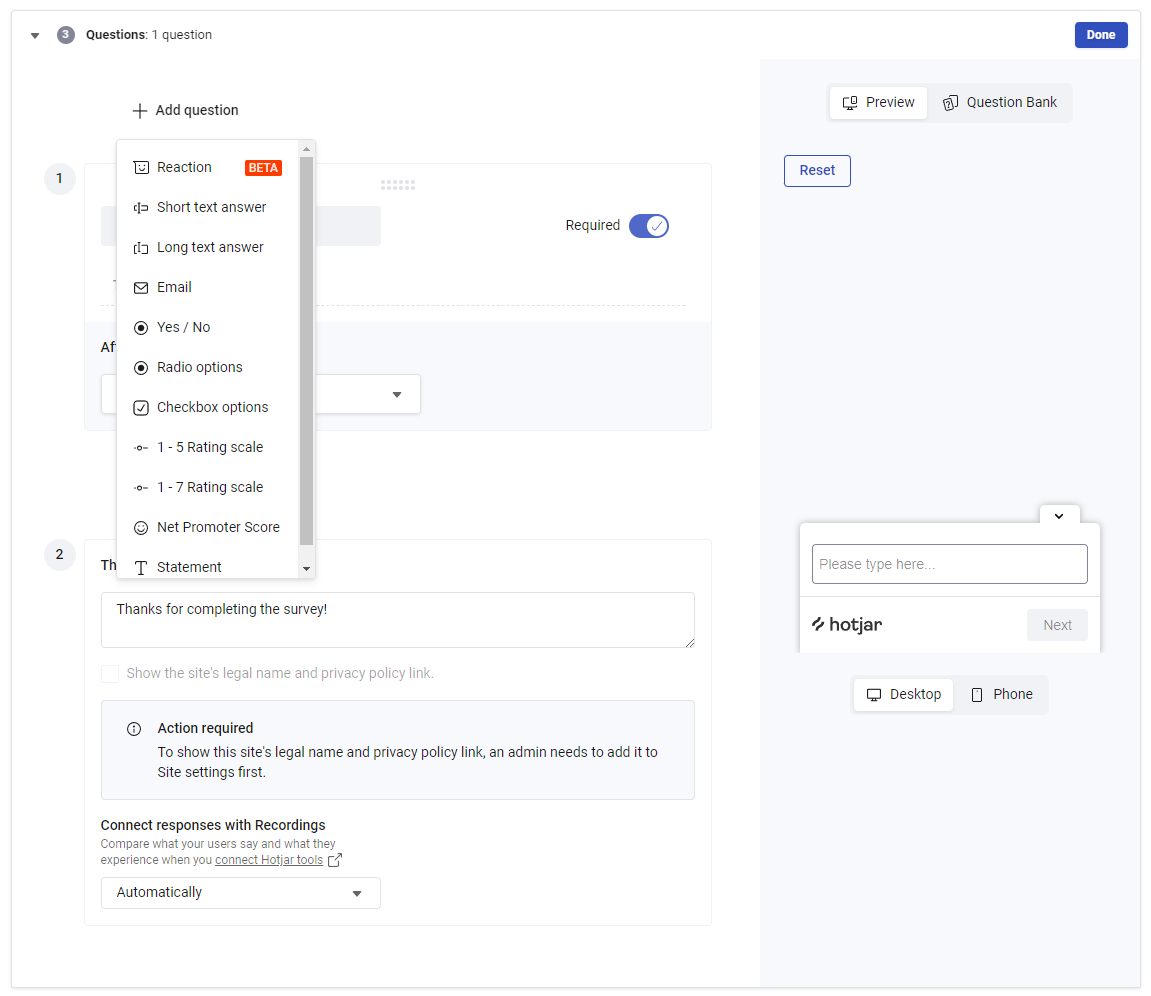 We offer several templates for NPS, CSAT and other types of surveys but also our survey builder has all the questions that Hotjar has and a little bit more. We also got dropdowns, legal questions and a dedicated bug button. You can also set multiple questions on the same survey page which is not possible in Hotjar.
Survey Customization and Appearance
In Hotjar you can choose between two default colors for background, button and text. Additional options like custom colors, other reaction types or even editing the widget's label are available only for the Business plan(79$/month) and higher.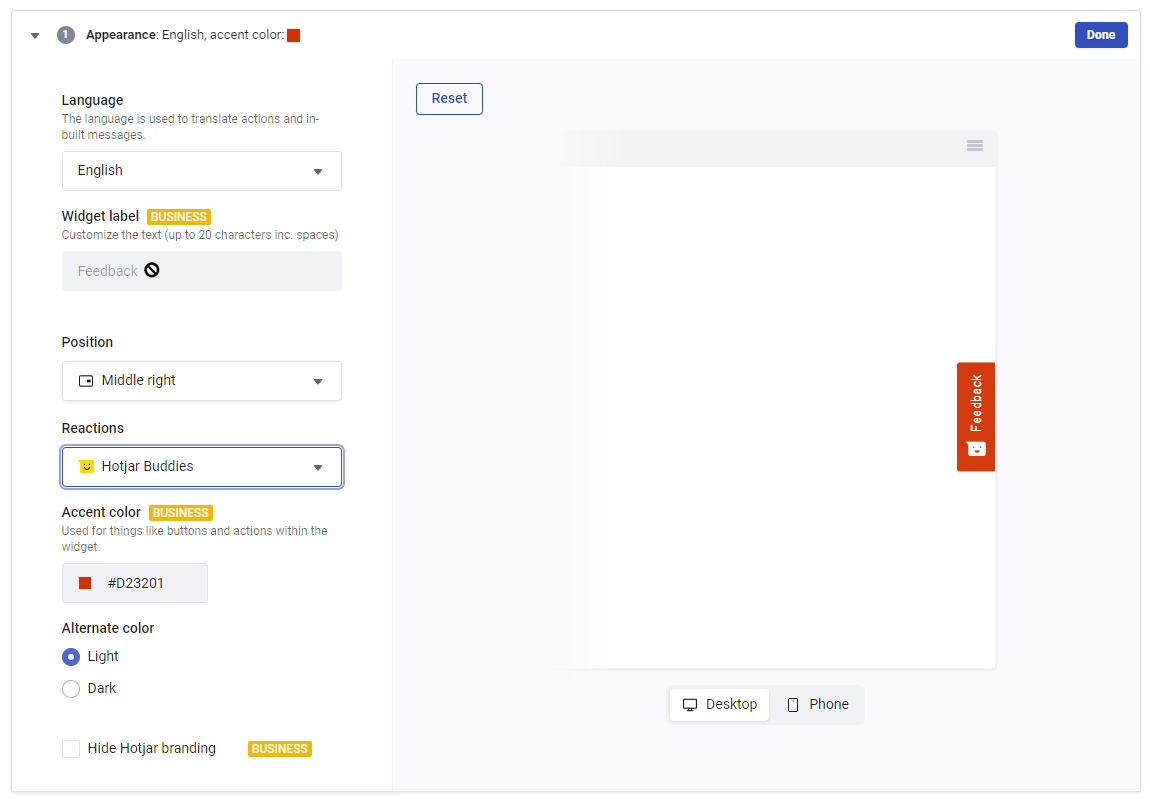 Give your survey a personal look by adding your own logo in its header(not available in Hotjar Ask) and adjusting its size and padding to your fit. Use your own colors and stylize the text by making it bold and italic or change the font to make it even more personalized. Chose between a light or accented theme and set the padding of the survey content. Add links to other pages of interest. When it comes to the widget launcher button you can position it on the screen down to the pixel, edit its label text and choose from different types of buttons.
Filtering responses
You can filter Hotjar survey responses by date intervals, survey completion, page URL, devices, free text or by selecting a specific question from the dropdown. Responses from the feedback widget can additionally be filtered by the email or text presence in the response or by its rating.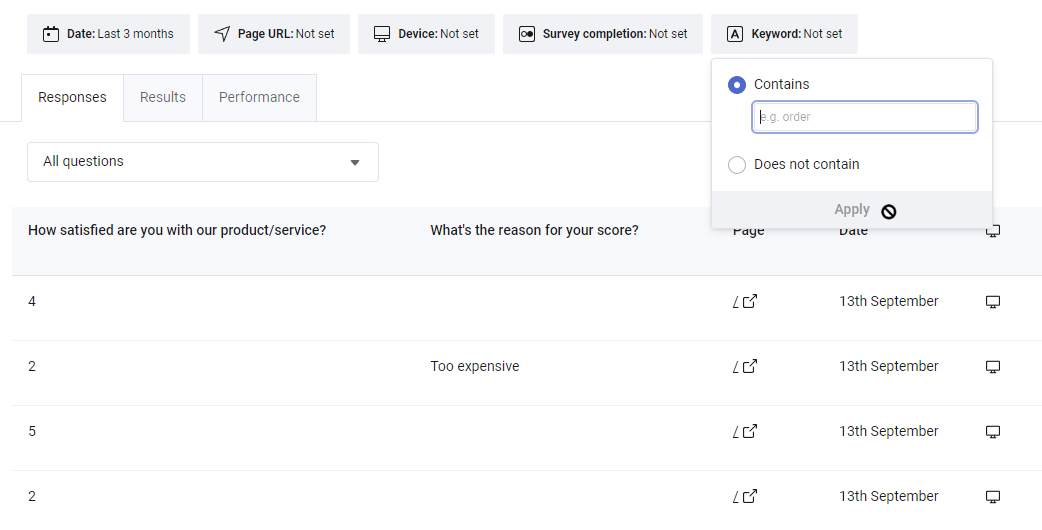 Appzi filters are created to make your life easier when dealing with lots of responses. Your feedback can be filtered by lots of criteria like: response status (done, completed or favorite), specific date ranges, feedback id, particular choices from multichoice questions, customer categories, a custom filter if you have custom fields and more.
Charts
Hotjar has the same bar charts for every question that support it. Exceptions from this rule are the NPS questions – you get the essentials like customer categories(detractors, neutrals and promoters), the overall voting distribution and the over time evolution of the Net Promoter Score. Some special charts are available for Reactions and Feedback widget but they only display the average score which is not always the right way to go with some specific questions like CSAT and CES.
Get the latest trends and use comprehensive and interactive charts for further analysis of your feedback with Appzi. You get donut charts on Summary page showing the current score depending on the question/survey type(NPS, CSAT and Average) that redirect to an already filtered feedback once clicked. Over time distribution charts are available for every question but also for tagged feedback and custom fields.
Targeting
Hotjar users can choose the devices and and the page URLs where the surveys will be displayed. For more advanced user targeting the Business plan(79$/month) is needed.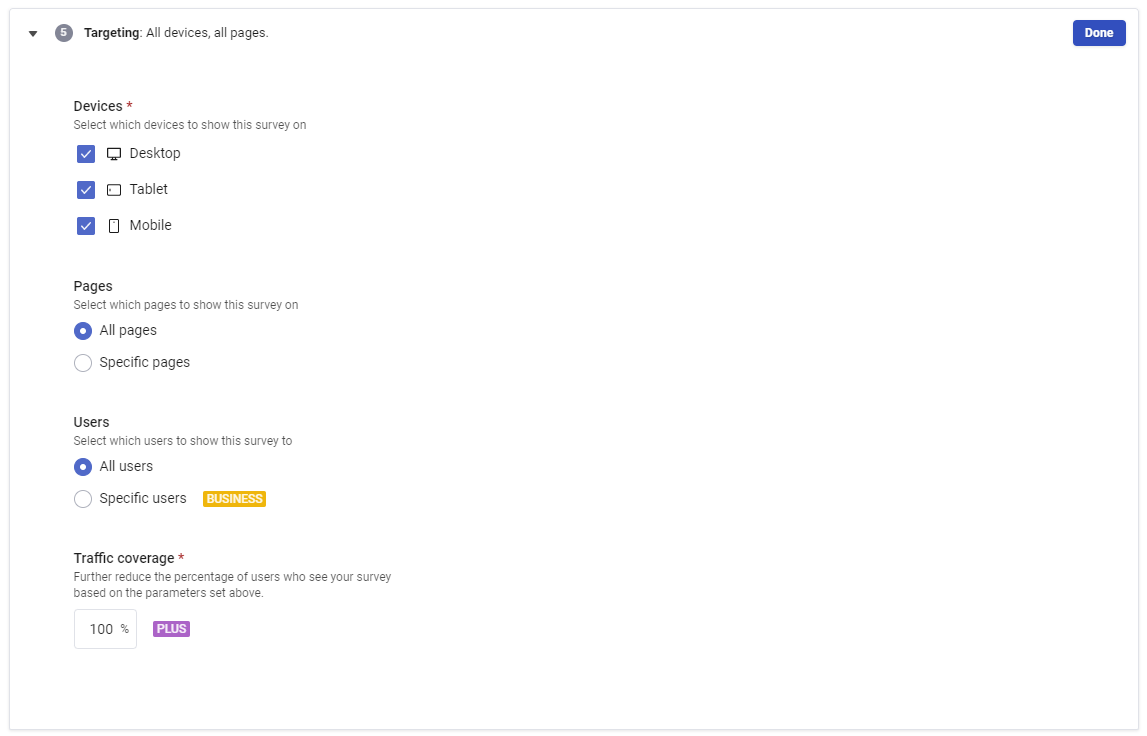 Beside targeting specific devices and page URLs you can also target the users that are logged in or not and by the date they signed up. That's not all though – we also offer from the get-go the option to set custom rules like "current user plan is Premium" or "user has at least 3 items in the cart".
Frequency and Scheduling
Auto-pop surveys can be set to appear after a delay, when is about to exit the page or when user has scrolled halfway down the page. You can also choose how often the survey will be shown to a particular user – only once, always or until they submit a response.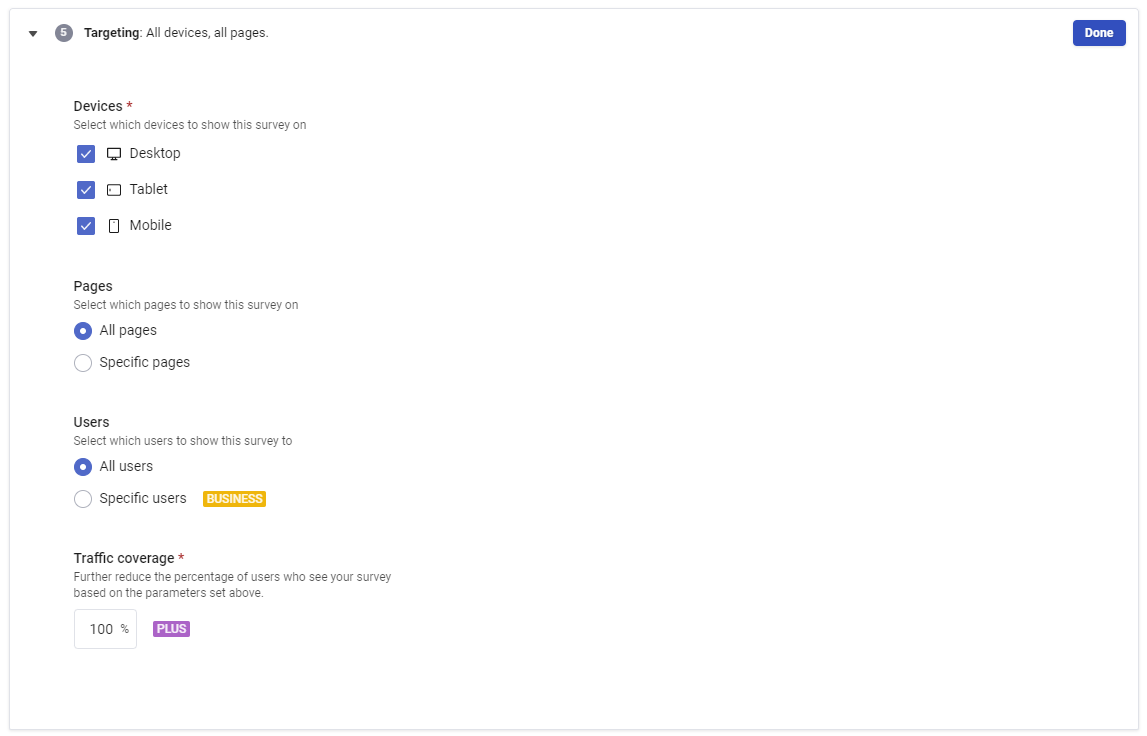 Set the survey to trigger after user spent some time on the page and schedule how often you want the survey to show up depending on whether the user submitted a response or not.
Integrations
With Hotjar responses can be forwarded to your email or to external apps like Slack, Trello and Zapier if you are a Business plan(79$/month) user.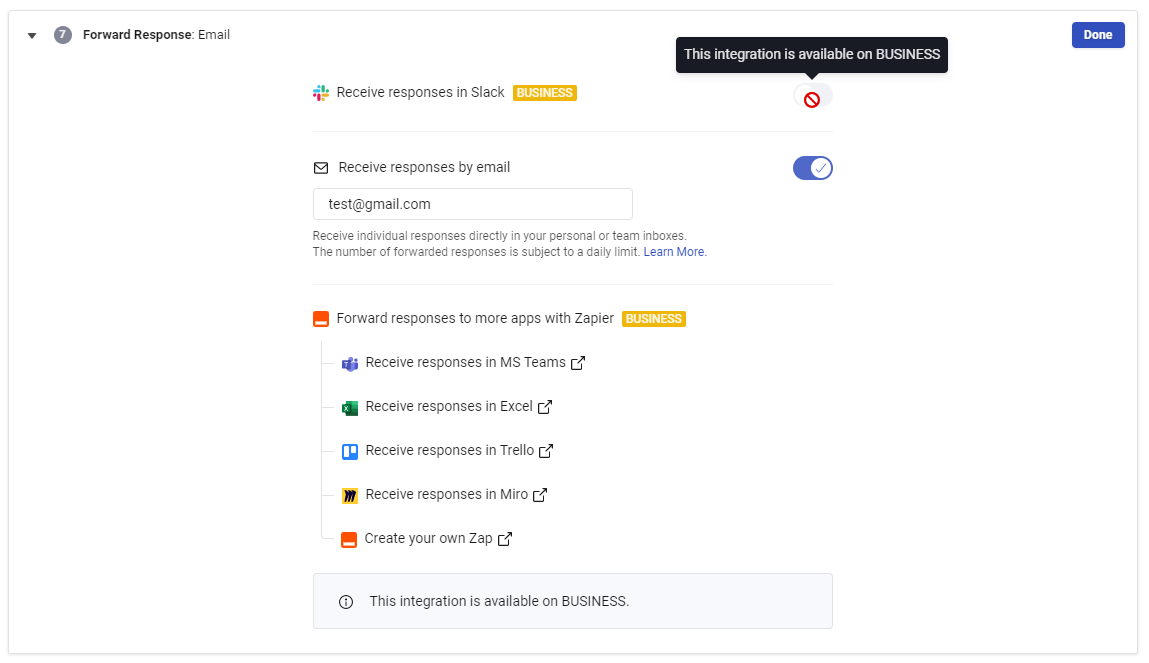 When using Appzi you will receive instant notifications in your email once a new survey response is added. Push your feedback to Slack or Trello with our custom made integrations or to thousands of other apps with Zapier. Choose between delivering all feedback or only those responses that have high value to you so your inbox doesn't get cluttered with low quality responses.
And here are some of the Appzi features that Hotjar Ask does not provide:
Add tags to specific feedback responses for easier organization into categories.
Give it a personal touch – recall answers from previous questions.
Tag multiple feedback responses or set them as "Completed" with a simple click.
Use one of our templates or contact us to get a fully personalized survey. In-page embedded surveys and full page surveys are also available on request.
Launch your first survey in minutes.
Register for free to evaluate user experiences, test new features, or gauge customer satisfaction on any web-based product.