11 Awesome NPS Tools SaaS Companies Should Try (Compared for You)
Net Promoter Score(NPS®) surveys help you find out if your users are willing to recommend your product to other people. NPS surveys are the best way to measure the success of your product. Find out what our users feel and think about your SaaS product first, then design and develop new features based on users' needs. In this article we've compared 11 NPS tools for small and medium-sized SaaS businesses that will help you make informed business decisions and tailor your roadmap to users' needs. Let's dive in.
| Tool | Appzi | SurveySparrow | Nicereply | QuestionPro | Survicate | UserGuiding | Userpilot | Zonka Feedback | ProProfs Survey Maker | Retently | Refiner |
| --- | --- | --- | --- | --- | --- | --- | --- | --- | --- | --- | --- |
| Customization | ✔️ | ✔️* available at $499/month | ✔️ | ✔️ | ✔️ | ✔️ | ✔️ | ✔️ | ✔️ | ✔️ | ✔️ |
| Survey Scheduling | ✔️ | ✔️ | ✔️ | ❌ | ✔️ | ✔️ | ✔️ | ❌ | ❌ | ✔️* available at $149/month | ✔️ |
| Question Routing | ✔️ | ✔️ | ✔️ | ✔️ | ✔️ | ❌ | ❌ | ✔️ | ✔️ | ✔️ | ✔️ |
| Multi-channel feedback collection | ✔️ | ✔️ | ✔️ | ✔️ | ✔️ | ❌ | ❌ | ✔️ | ✔️ | ✔️ | ✔️ |
| Reporting dashboard | ✔️ | ✔️ | ✔️ | ✔️ | ✔️ | ✔️ | ✔️ | ✔️ | ✔️ | ✔️ | ✔️ |
| Multilingual surveys | ✔️ | ✔️* available at $199/month | ✔️ | ✔️ | ✔️ | ✔️* Portuguese is available | ✔️ | ✔️ | ✔️ | ✔️ | ✔️*available with the Enterprise plan |
| User targeting | ✔️ | ✔️ | ✔️ | ❌ | ✔️ | ✔️ | ✔️ | ❌ | ❌ | ✔️* available at $149/month | ✔️ |
| Send follow up messages | ✔️ | ✔️ | ✔️ | ✔️ | ❌ | ❌ | ❌ | ✔️ | ❌ | ✔️* available at $149/month | ✔️ |
| 3-rd party integrations | ✔️ | ✔️ | ✔️ | ✔️ | ✔️ | ✔️ | ✔️ | ✔️ | ✔️ | ✔️ | ✔️ |
| Other survey templates | ✔️ | ✔️ | ✔️ | ✔️ | ✔️ | ❌ | ✔️ | ✔️ | ✔️ | ✔️ | ✔️ |
| Data backup | ✔️ | ✔️ | ✔️ | ✔️ | ✔️ | ❌ | ✔️ | ✔️ | ✔️ | ✔️ | ✔️ |
| Data export | ✔️ | ✔️ | ✔️ | ✔️ | ✔️ | ❌ | ✔️ | ✔️ | ✔️ | ✔️ | ✔️ |
| Data export | ✔️ | ✔️ | ✔️ | ✔️ | ✔️ | ❌ | ✔️ | ✔️ | ✔️ | ✔️ | ✔️ |
| GDPR | ✔️ | ✔️ | ✔️ | ✔️ | ✔️ | ❌ | ✔️ | ✔️ | ❌ | ✔️ | ✔️ |
| Pricing | Starts at $29/month | Starts at $199/month | Starts at $49/month | Starts at $99/month | Starts at $79/month | Starts at $99/month | Starts at $299/month | Starts at $99/month | Starts at $100/month | Starts at $49/month | Starts at $99/month |
| G2 rating | n/a | 4.4 | 4.5 | 4.5 | 4.7 | 4.7 | 4.7 | 4.7 | 4.3 | 4.8 | 5.0 |
1. Appzi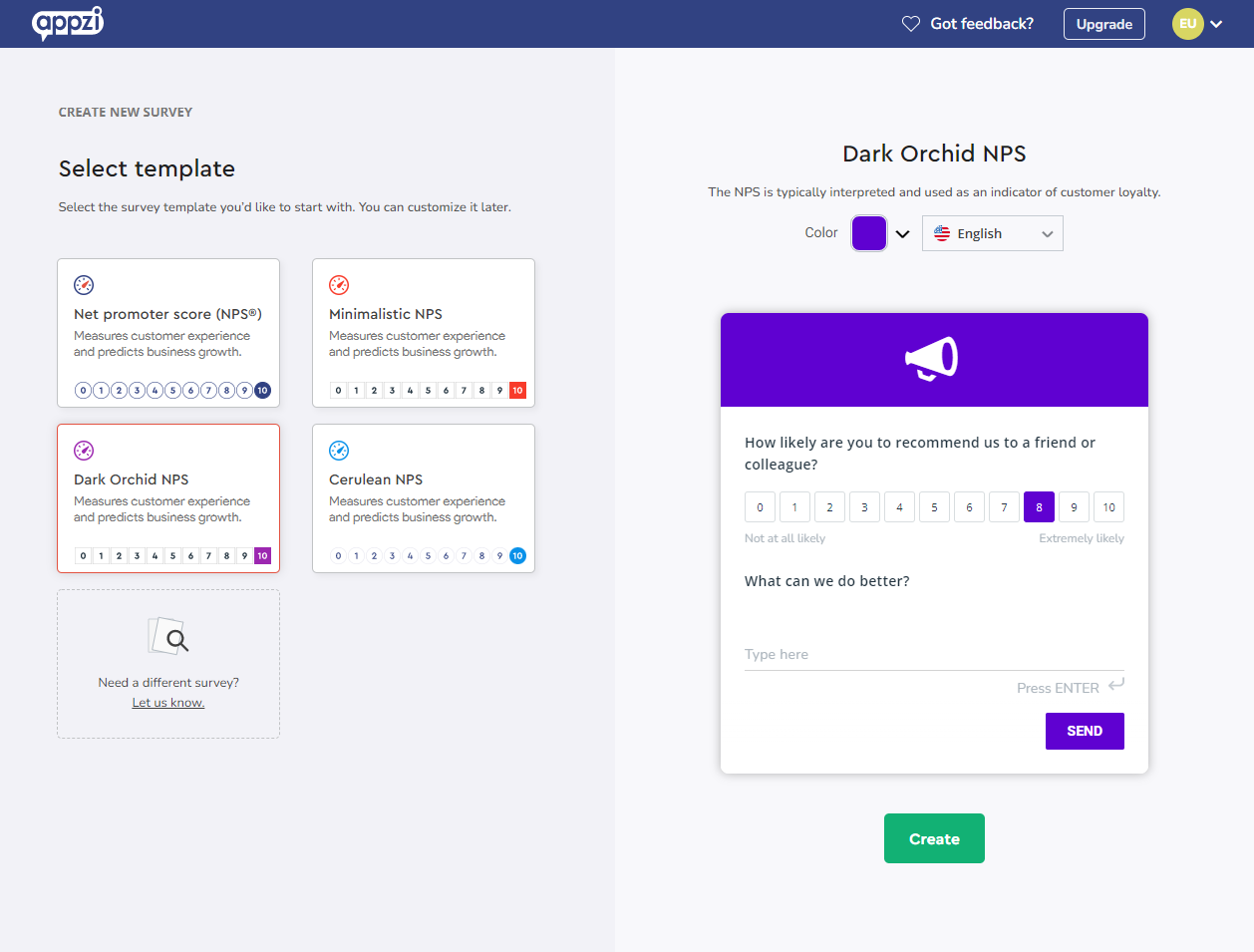 If you're looking for an easy way to track your NPS score, look no further. Use one of the four fully-customizable NPS survey templates to get started in minutes. Use question routing to direct users through the survey based on the score they leave. Track how your NPS score grows over time on the intuitive reporting dashboard. See how the score changes for promoters, passives and detractors separately.
Choose who will see your survey and how often that should happen. Filter the comments you get for each user group. Send feedback to Slack, Trello or Zapier to integrate Appzi into existing workflow.
Pros:
Design and launch your NPS survey within minutes with our fully customizable templates.
Simultaneously run as many surveys as you need for different user cohorts.
Analyze promoters, passives and detractors at a glance.
Our friendly and responsive team is always ready to go the extra mile to ensure Appzi blends into your existing workflows.
Our solution is so cost-efficient that even early-stage startups can afford it.
Cons:
At this point there's no option to upload GIFs to surveys.
Reports can't be exported from the platform but you can export your data in CSV or Excel for further analysis.
2. SurveySparrow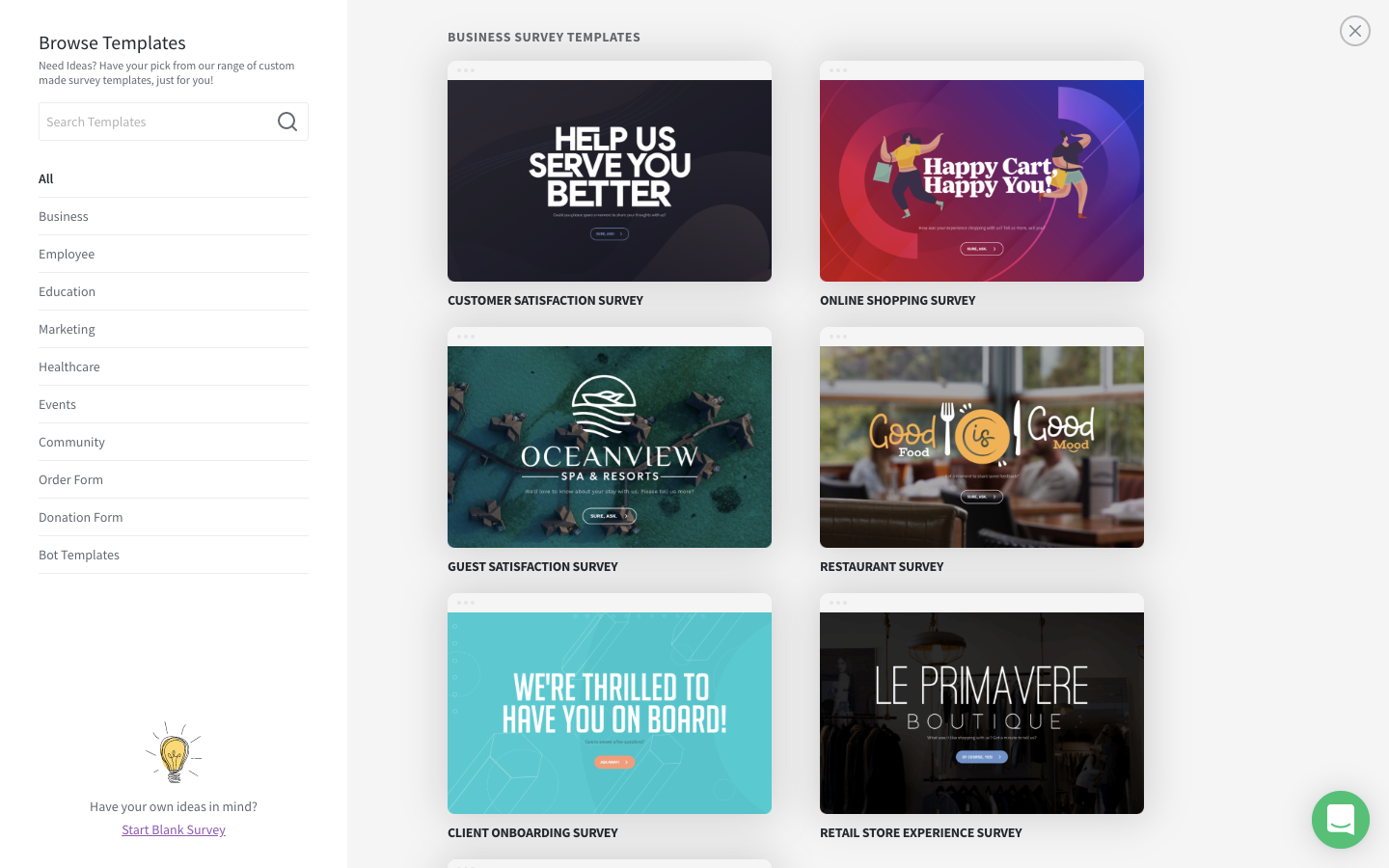 SurveySparrow is an omnichannel tool that lets you listen to your customers, analyze their responses, improve your processes and ultimately improve your NPS score. Its user-friendly interface lets you create NPS surveys in minutes and integrates with thousands of apps which makes it easy for product teams to integrate SurveySparrow into existing workflows.
Pros:
You can share your survey in your product, as a link to a landing page. You can embed it in an email or share it on social media. Send it in an SMS or push it to your mobile app.
The conversational structure of surveys leads to better response rates.
Straightforward and user-friendly interface that lets you create surveys in minutes.
Cons:
If you need complete survey customization you'll need to sign up for the NPS Premium plan that costs $499/month.
You can create multilingual surveys if you go for the NPS Basic plan for $199/month.
If you run a small SaaS business, SurveySparrow might be too expensive. It's worth looking into other platforms with a friendlier price range.
3. Nicereply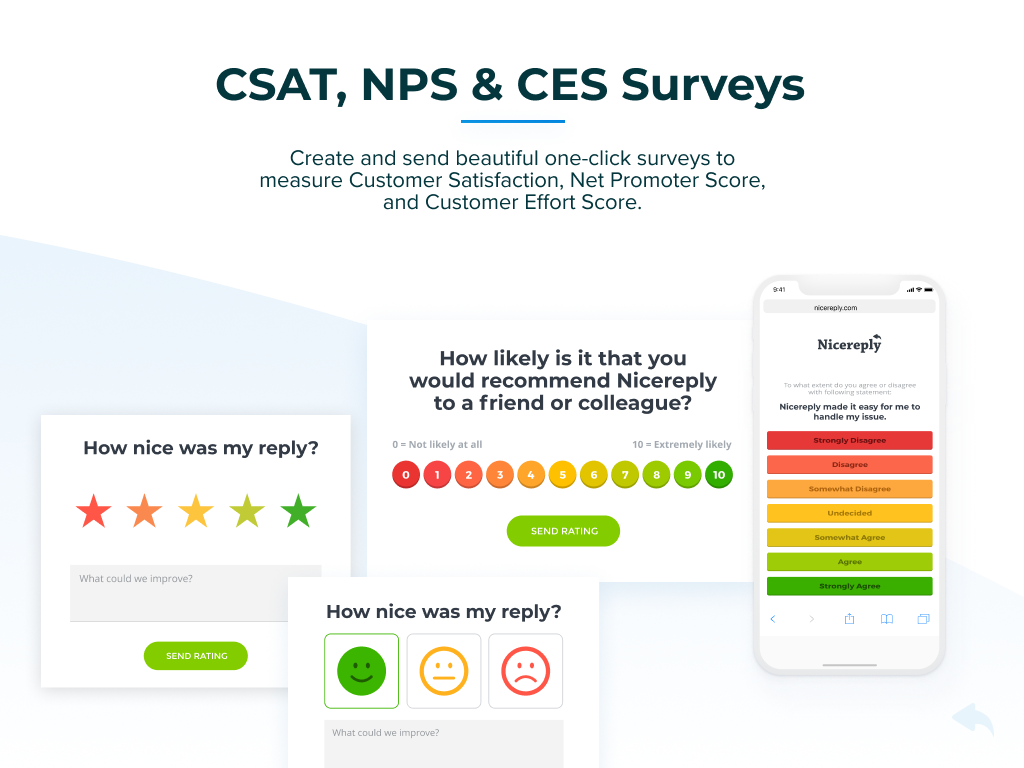 Collect qualitative and quantitative data from your users with Nicereply. The tool records the answers as soon as a user clicks on a survey and sends it to your reporting dashboard even if the user didn't finish the survey. This gives you an insight of their feelings or thoughts. Then, see feedback from your customers, pushed to their tickets in the form of a note and a tag in your helpdesk platform.
Pros:
Straightforward and user-friendly interface.
Quick and responsive customer service team.
Surveys can be embedded in email signatures, website's footer or in chats.
Cons:
Survey and reporting dashboard customization options are limited.
There's no option to add more contacts to a survey that's already live. You'll need to design a new survey and to collect data for those contacts separately, because of that you'll need to analyze survey data separately.
You can't copy a survey with its settings.
4. QuestionPro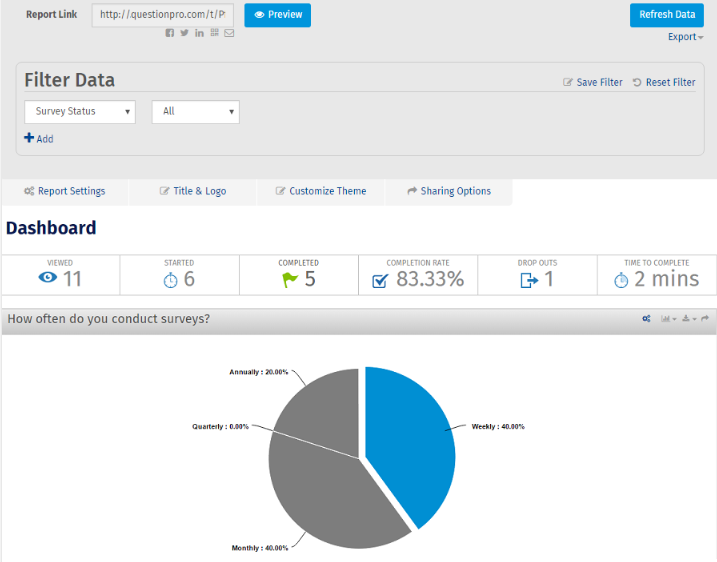 Use QuestionPro's NPS survey templates to learn if your users are likely to recommend your product to their friends or colleagues. Classify your users into promoters, passives and detractors and take actions before you lose them. Collect customer satisfaction data and gain insights into customer experience.
The tool complies with data privacy and security regulations like GDPR, ISO 27001, HIPAA, and many more to ensure data security. If compliance to security regulation is vital for your product, consider QuestionPro for your surveying needs.
Pros:
QuestionPro is an easy to use, user-friendly service that makes building questionnaires easy.
The customer support team is responsive, helpful and continuous.
The product team listens to users' feature requests and prioritizes their development.
Cons:
You can't test your survey in a sandbox, without recording a response.
You can't copy a survey with its settings.
Multiple team members cannot work on different sections of the survey at a time.
5. Survicate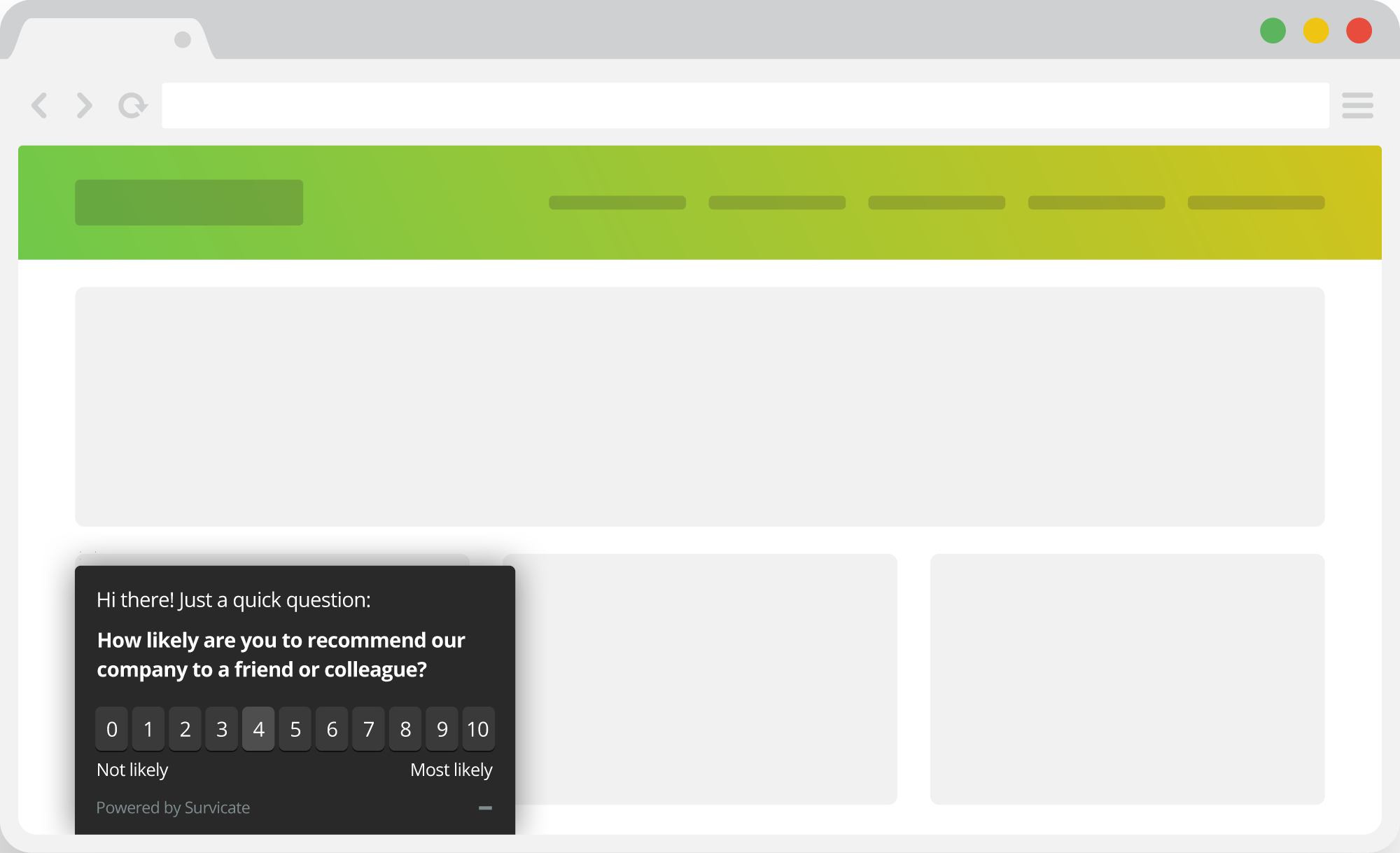 Create NPS surveys in seconds with Survicate. Survey your users anywhere and analyze the data you receive with easy-to-use dashboards and reports. Pull data from the tools you love and push it to the tools you use daily.
Pros:
Survey targeting lets you customize your survey to specific user cohorts which boosts response rates.
Intercom integration lets you send your survey right to the chat window.
Survicate made survey personalization easy for their customers.
Cons:
Data filtering in the analysis tool could be more flexible.
Visual data analysis is limited with the NPS survey to a donut graph and word map. For further analysis, you'll need to export data.
6. UserGuiding
With UserGuiding, you can create an NPS survey and make it live, in less than five minutes. Creating the survey and implementing it into your product doesn't require any technical or coding knowledge.
UserGuiding mainly focuses on user onboarding and doesn't have some of the features offered by other NPS-building tools. So, if your NPS requirements are simple and minimalistic, this tool might do the trick for you.
Pros:
You can create beautiful personalized product tours in minutes.
Responsive customer support team.
It lets you create user guides at the speed of light.
Cons:
UserGuiding needs to offer more integrations with CRM and user-behavior tools.
Additional survey templates are not available at this point.
The tool's UI feels bloated with limited room for customizations.
7. Userpilot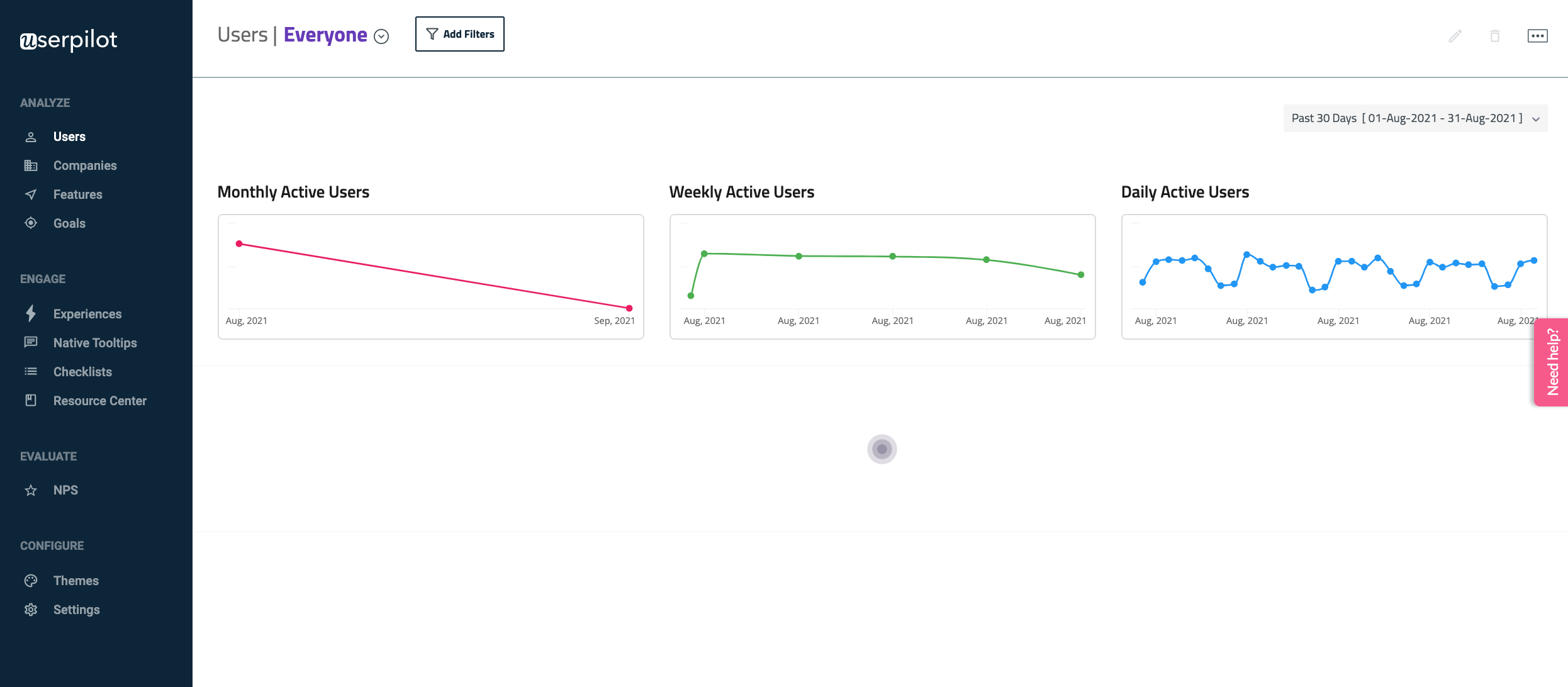 Userpilot helps product, UX and customer success teams increase user adoption through behavior driven product experiences. Build beautiful, personalized and highly customizable experiences on top of your product to pave the way to Aha!. Quickly improve onboarding for new signups, trigger interactive tips when it's relevant and help users understand the value, all without writing any code. Userpilot also helps you increase user retention, and stimulate feature discovery as your product evolves.
Pros:
Easy to set up, you can target users based on different criteria within minutes.
Professional and responsive customer support team.
Cons:
The reporting dashboard lacks customization, you can't see how your NPS score has changed in the last 90 days.
You can't copy the settings to multiple surveys at once.
GIFs can't be uploaded to surveys.
The subscription is too pricey for early-stage startups.
8. Zonka Feedback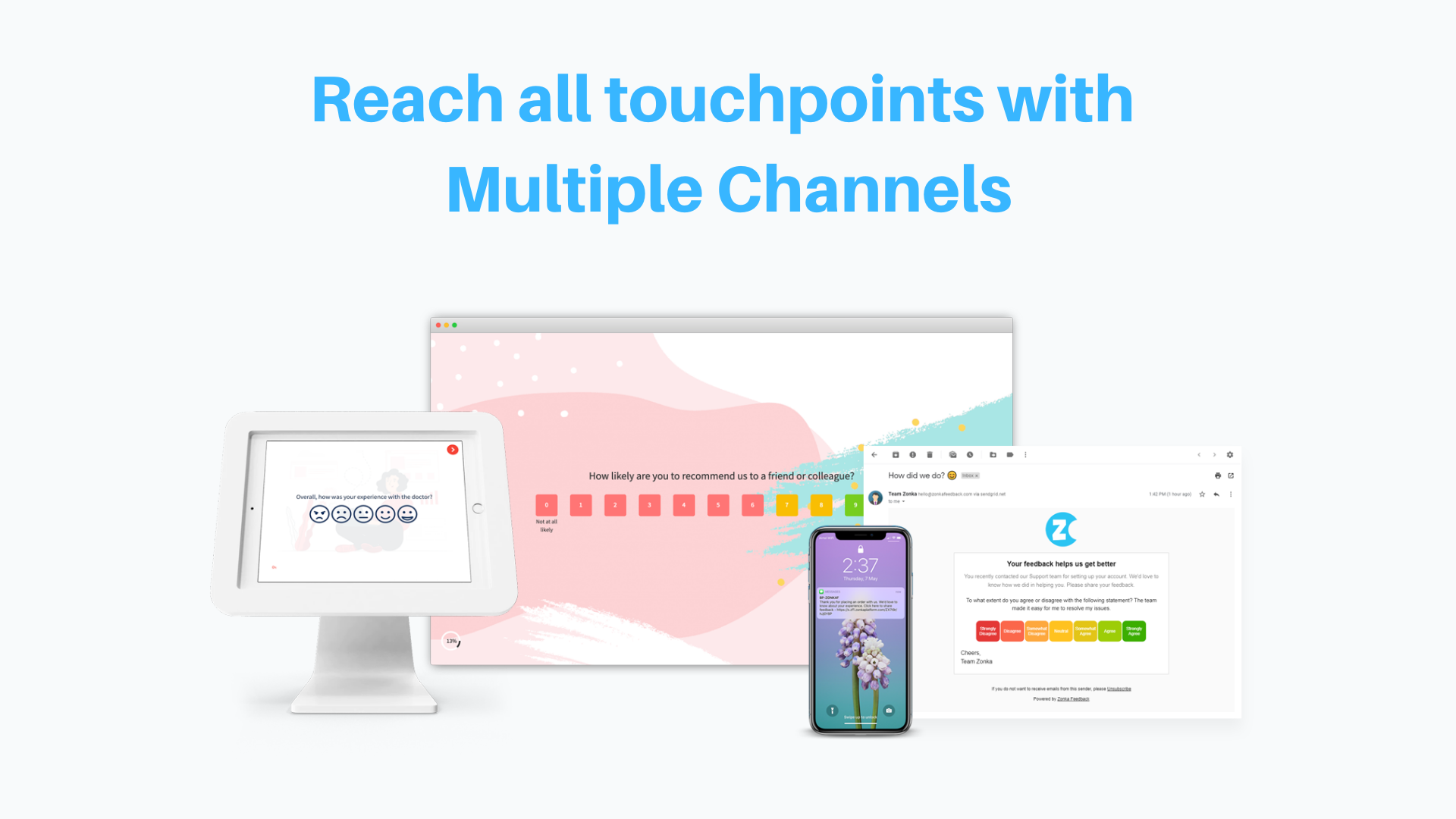 Identify your promoters, passives and detractors, automate customer experience (CX), customer success operations and boost long-term customer relationship with Zonka Feedback's online NPS tool. Easily register, integrate and create NPS surveys to engage with customers, analyze and improve customer loyalty, and get actionable data to reduce churn, increase CLTV and improve business revenue and profits.
Pros:
The reporting dashboard is comprehensive and user-friendly.
You can upload images to your surveys.
Zonka can be used for different scenarios. You can run multiple survey types at the same time.
Cons:
There's no way to modify the fonts inside the survey.
You cannot import Excel or CSV files.
Reports can't be exported from the platform.
9. ProProfs Survey Maker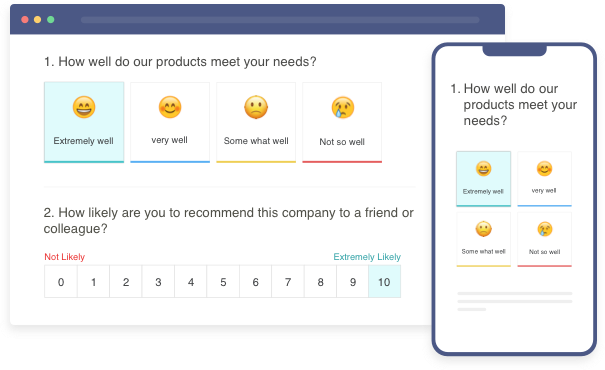 Design custom NPS surveys with ProProfs Survey Maker. To publish your survey you'll need to go through four steps: pick your survey template, add an open-ended question, customize the survey, distribute it via email, link or in-product. Gain valuable insights on what your users think about you. Get insights on detractors, passives and promoters with organized reports.
Access daily, weekly and monthly reports.
Get visual insights with graphs and charts.
Analyze individual data on detractors, passives and promoters.
Pros:
It has a good library of pre-built surveys that help you draft your surveys better.
The tool has Inbuilt suggestions, recommendations for adding content to your survey.
Surveys are optimized for desktops, tablets and mobile phones.
Cons:
It's not very intuitive, you'll have to dedicate some time to learning how to create surveys with the tool.
The free trial period is only 15 days.
You won't receive email notifications from respondents in the free version.
10. Retently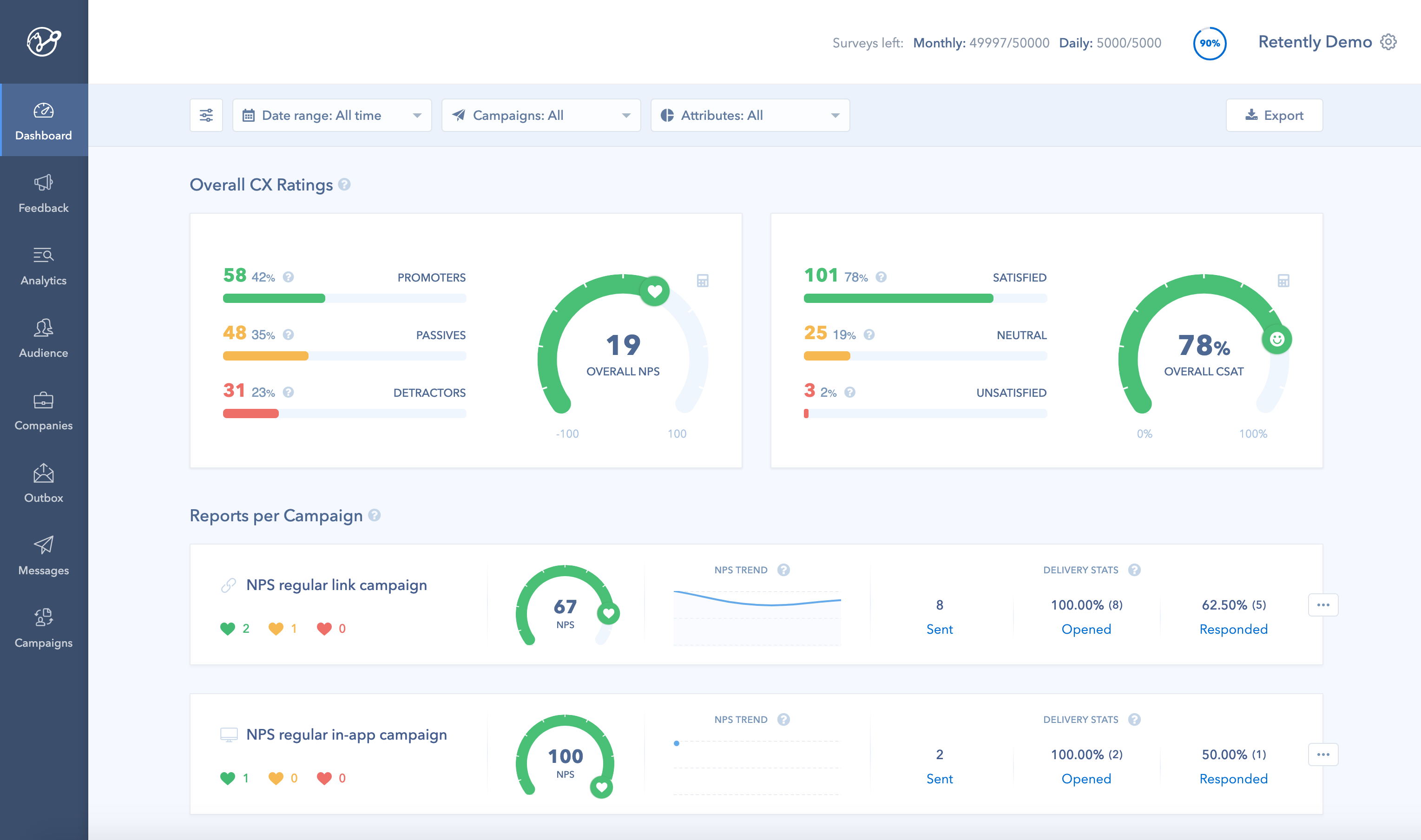 Design custom NPS surveys and get in-depth feedback to drive adoption and build products customers love with Retently. Increase customer retention by automating follow-up messages with at-risk users or setting up internal notifications to ensure that the appropriate team is notified and can take the necessary action to prevent a churn or an unflattering online review.
Use auto-replies to transform a great NPS score into a sparkling online review that will boost your visibility and online performance.
Pros:
Push your NPS surveys to Intercom chats.
Easily sort and export all the feedback you've received.
Cool dashboard with instant access to all NPS results and different segments.
The customer support team goes above and beyond to ensure user satisfaction and tool adoption.
Cons:
Some of the core features are a bit difficult to find at first, it takes time to learn how to use the tool.
The integration with Salesforce isn't smooth and intuitive.
11. Refiner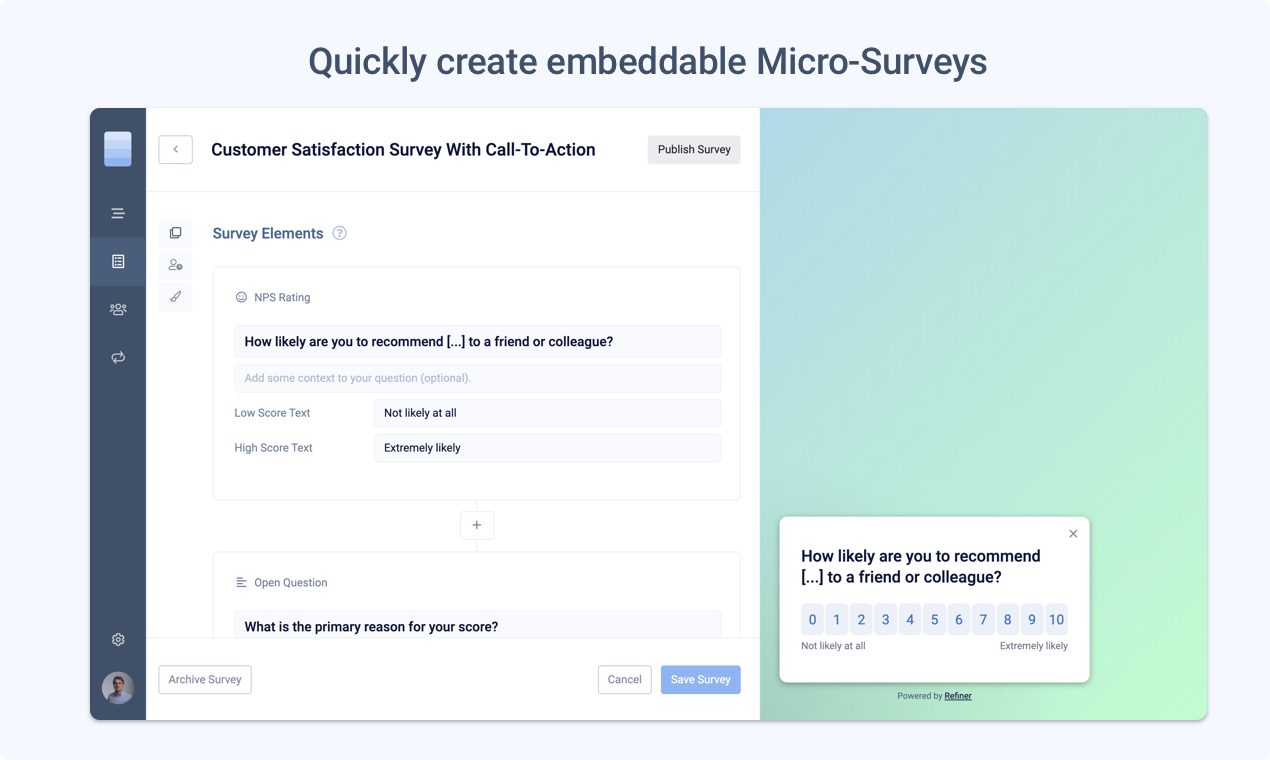 Close the customer feedback loop with Refiner. Launch NPS surveys and get more user insights. Automate actions based on answers. Instantly collect user feedback, sync ratings to your CRM, product management or marketing automation platform. Trigger Zapier workflows to send NPS-follow up emails, create a support ticket or notify the account manager to take action.
Pros:
The app is easy to install (npm or JS code snippet) and the survey widgets look beautiful and are fully customizable.
You can define a segment of users which surveys are targeted based on your own properties.
Cons:
Multilingual surveys are available only with the Enterprise plan.
The free trial lasts only 14 days.
Can't export the report to share with the team.
12 Questions to Ask When Choosing NPS Software for SaaS
The multitude of NPS tools available on the market make the choice hard. But these 12 questions can make your choice a bit easier, use them when talking to NPS tool providers.
Can I run different surveys for different user cohorts?
Is there a limit on the number of surveys I can deploy?
Does your tool offer ready-made templates for different use cases?
Does it offer branching and skip logic functionality?
How good is its reporting dashboard and technology?
Can I customize and brand the NPS survey the way I want?
Is the survey interface simple, clear, and unobtrusive?
Can I simultaneously run several surveys on different channels?
Does the platform offer a robust data backup system?
Can it easily integrate third-party applications? If yes, then which ones?
Can it help me sync the customer data from and to my CRM?
Does the service offer an API?
Closing thoughts
Collecting Net Promoter Scores enables you to make sure you grow fast enough and in a sustainable way, which is a must for SaaS in any industry.
As a survey tool provider, we know how important it is for NPS software to fit into our users' workflows and processes. That is why we've designed Appzi to be easy to set up and work with.
Our tool delivers powerful customer insights in a non-intrusive way. It helps identify at-risk users at an early stage which is great for churn prevention. Also it transforms good NPS scores into lasting relationships with your users.
Give Appzi a spin and launch your first NPS survey in minutes with our forever-free plan, no credit card required.