10 Questions About NPS® Answered (and a free Calculator for you)
The Net Promoter Score® (NPS) is a popular way to measure customer loyalty and satisfaction, but tracking it might get tricky. You can put yourself in a great position to succeed with your next NPS program by finding the answers to these 10 questions beforehand.
What is Net Promoter Score?
The NPS is a measurement of customer loyalty and satisfaction. It's taken from asking customers how likely they are to recommend your product on a scale from 0-10. The score can be used as an important tool to identify where your business has stagnated and what steps you need to take to drive growth.
How to calculate NPS?
When users give feedback, they usually rate their experience on a scale from 0-10. A score from 0 to 6 means the customer was pretty unhappy with the product and is unlikely to recommend it; while 10 shows that someone was extremely satisfied with your product.
So, users can be divided into: Detractors (who rated your product from 0-6), Passives who only liked it but didn't love every minute aspect of it (7-8), Promoters (9-10) – those folks are excited to spread the word about your product.
To calculate your Net Promoter Score, subtract the percentage of detractors from the percentage of promoters.
For example, if 50% of respondents were Promoters and 15% were Detractors, your Net Promoter is a score of 35. Find out your NPS with our free Excel calculator.
What are the benefits of NPS?
NPS is a straight-forward and user-friendly measurement of customer loyalty. Its results are easy to interpret. Marketing teams can quickly share insights with sales and product development teams, so that they can get an accurate idea on what they need for incremental improvements.
The benefits don't stop there though; many businesses invest heavily into implementing this system because it enhances experiences over time and it identifies users who provide valuable input. With these insights you may be able to create programs that aim to increase lifetime value.
Another good thing is that there are plenty of NPS tools for you to choose from.
What are the limitations of NPS?
NPS needs more context to add substantial value
The classic NPS survey will give you plain scores from users. This single data point does not allow for deeper analysis and understanding as there are many other sources that could help complete the picture, such as product changes, customer service experience, respondent's mood which may have influenced an individual's choice in rating your product positively or negatively.
A score is solicited
When feedback is solicited, the results can be skewed. The manner in which it's asked may influence an answer, the timing might be wrong, the device the user is on might have an impact.
Unsolicited feedback is the best as it's not impacted by the company's employees and usually users come to share what's on their minds.
The NPS doesn't account for the influence each person has on others
It's easy to get excited about your Net Promoter Score. And, let's say, nine out of ten people are likely going on a high note with you, but what if the one detractor has too much power? For example – Elon Musk. He's a detractor, and with a short tweet he can convince 100.2M followers to never try your product.
When to use NPS?
By asking users about how satisfied they are with your product, you're getting feedback on how satisfied customers feel about their experience and whether this experience solved their pain. This is best sent after they've achieved a milestone in the product – such as completing onboarding or using it regularly for several weeks before sending them this survey so that results can represent real user behavior. Asking for feedback before that might confuse or scare new users away.
How to phrase your NPS question?
"How likely are you to recommend us on a scale from 0-10?" is the standard NPS question, but this doesn't have to be your only option. You could also ask:
Considering your experience with us so far, how likely are you to recommend [company name] to a friend or colleague?
Now that you've received your [product], how likely are you to recommend [company name] to a friend or colleague?
How likely are you to recommend our product to someone like you?
What open-ended survey questions should you ask?
The examples of the open-ended NPS follow-up questions below will help users express their opinion without any restrictions.
We'd like to know where we disappointed you in giving the perfect experience?
Why would you (not) recommend us?
How can we improve your experience with us?
How do you benefit from using our services?
Is there any feature you'd like us to include?
What could we have done differently to offer a better experience?
Open-ended questions help you see things from a customer's perspective as you get feedback in their own words. Analyze open-ended questions using spreadsheets, view qualitative trends, and spot elements that stand out with word cloud visualizations.
3 "thank you" messages to use
Sending the right thank you notes to users is a great way to show appreciation for their time and effort. It also demonstrates that you take their feedback seriously. Save these templates:
Thanks for taking the time to respond to our survey. We're happy to hear that you'd recommend us to your friends and family! If there's ever anything we can do to help, please get in touch.
Thank you for taking the time to let us know what you think. We will use this information to help improve our services.
Thank you for submitting a customer satisfaction survey. We take all of your concerns into consideration.
How to create your first NPS survey with Appzi?
When you're ready to start measuring your Net Promoter Score, sign up for a free Appzi account and use our NPS survey templates to build custom surveys. Follow the step-by-step instructions to get started.
STEP 1: Choose a survey template
We've got 4 templates that will help you get started in no time! Design customization possibilities are endless. Choose the perfect template for your product type and see how fast it can be set up.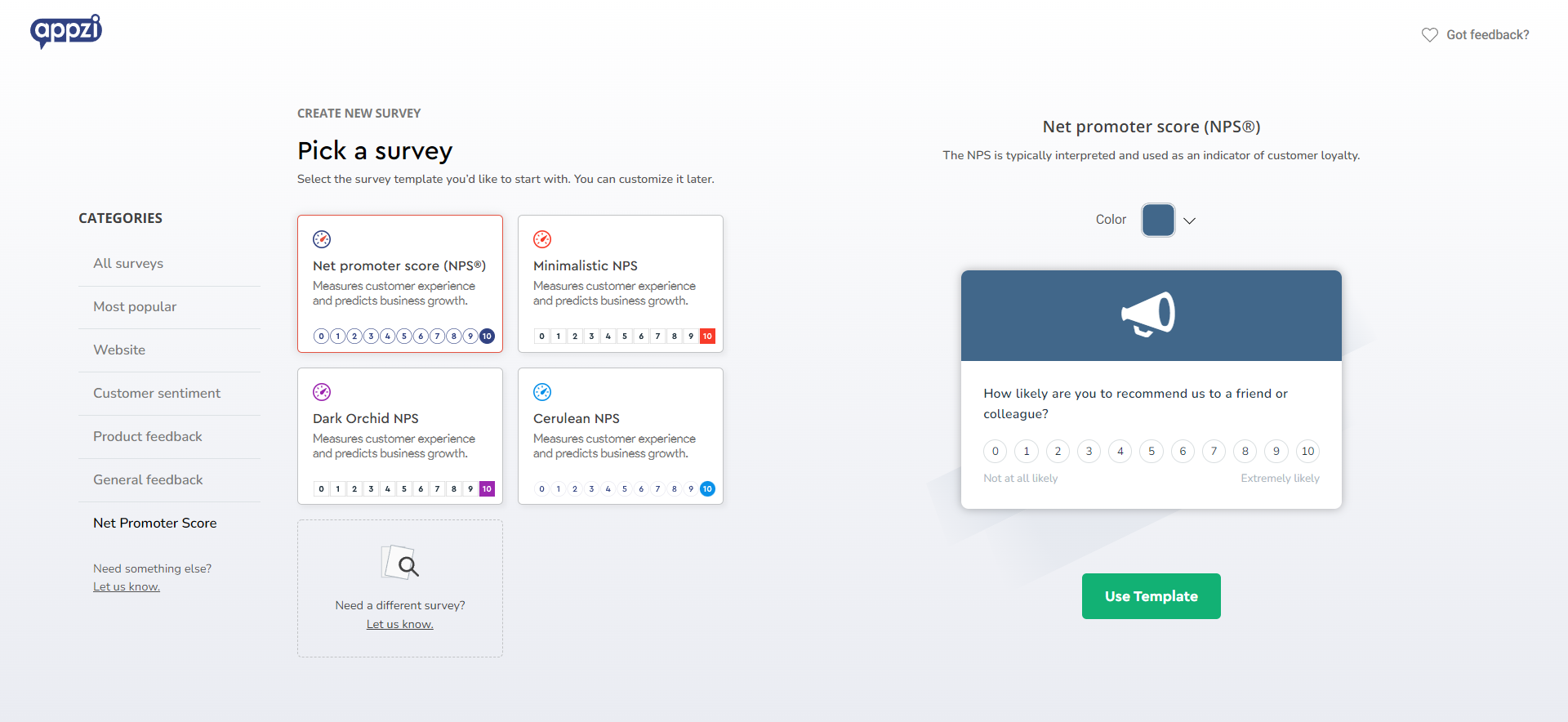 STEP 2: Give your survey a descriptive name
We'll call ours Appzi NPS survey. You can customize this field by choosing whatever name you prefer (the more descriptive, the easier for you and your teammates to refer back to it).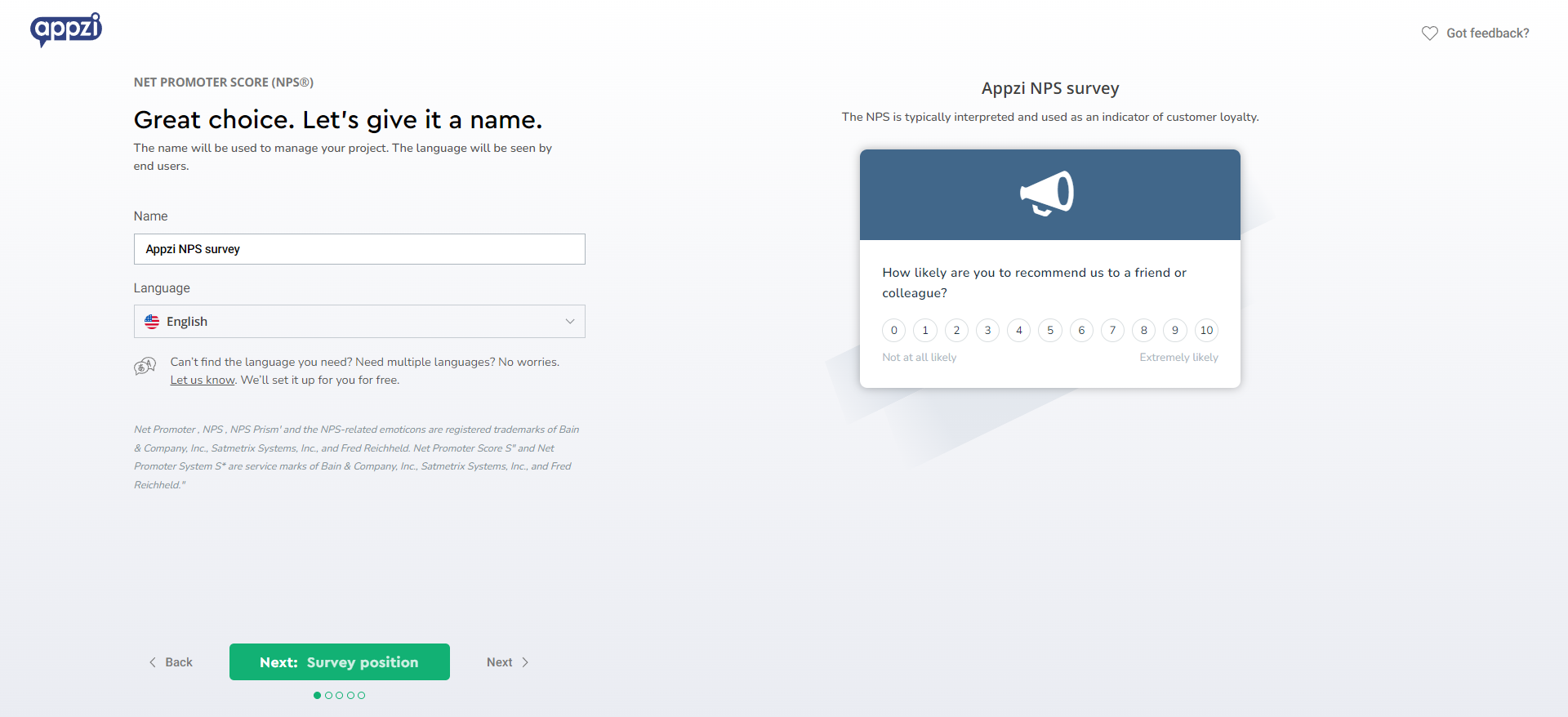 STEP 3: Customize your survey
Choose your survey's location, color and style. Make the survey an integral part of your product to boost response rates.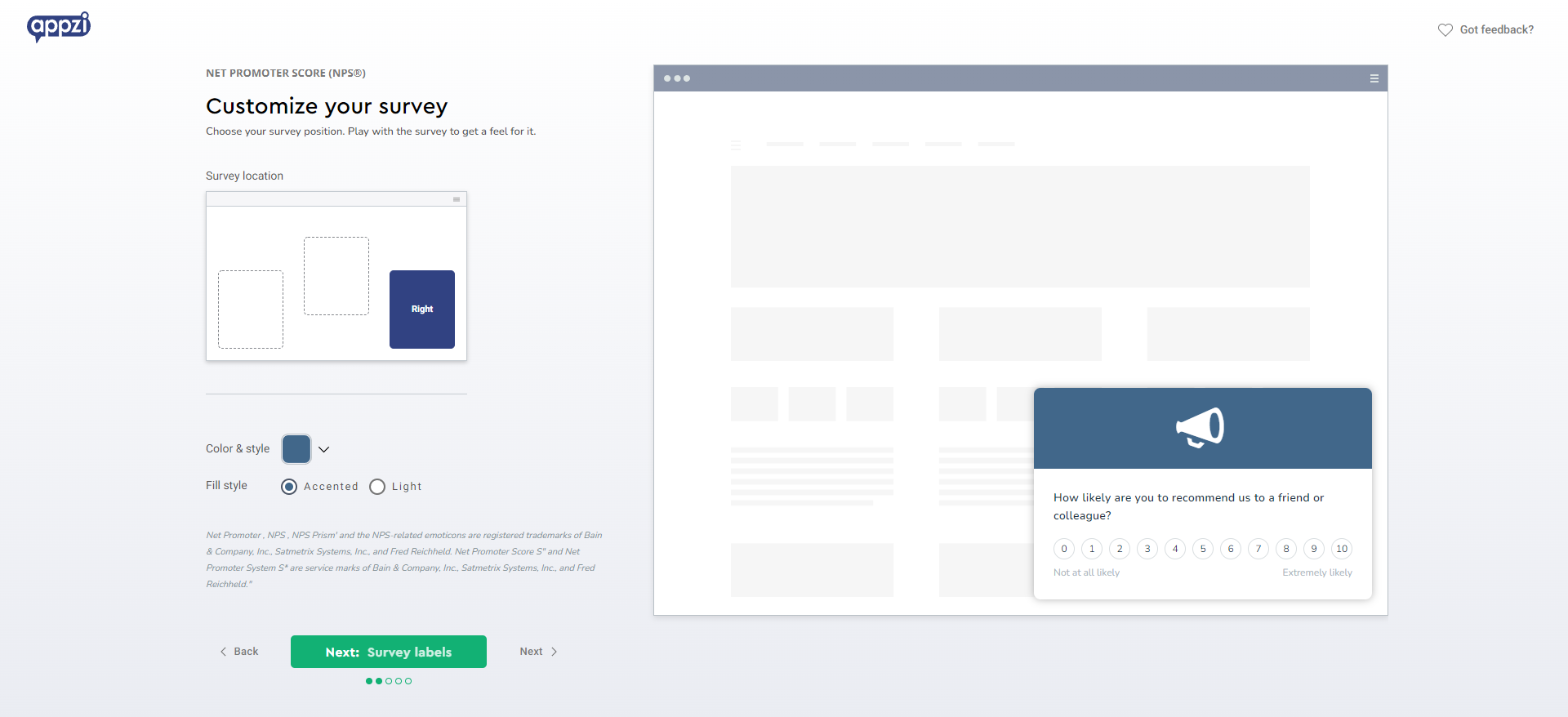 STEP 4: Come up with an engaging header
Add a header and a short survey description for your users. Get inspired by looking at header and description templates available from the dropdown lists.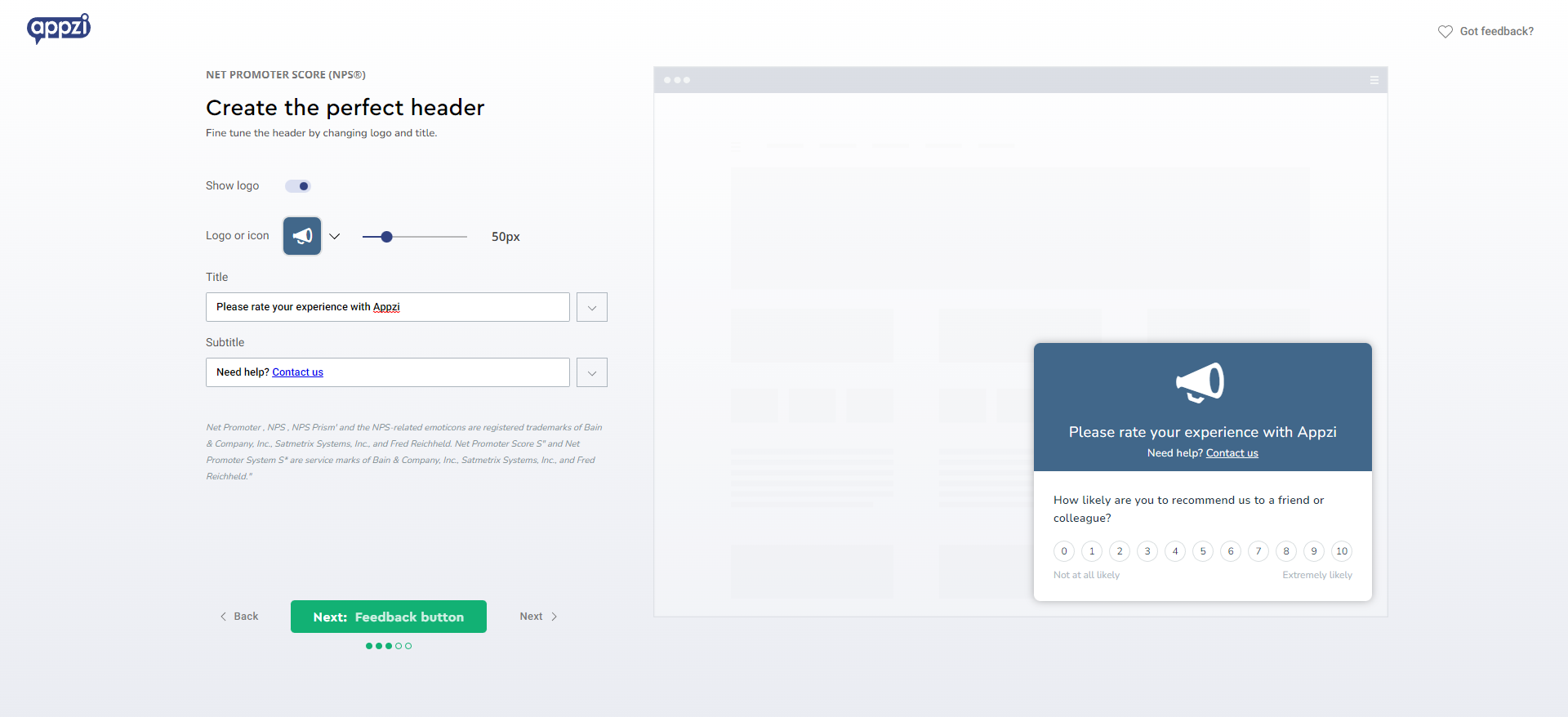 STEP 5: Add survey trigger rules
Set rules for your NPS survey. You can control when, on which pages and devices your survey should appear. Use logic rules for advanced user targeting.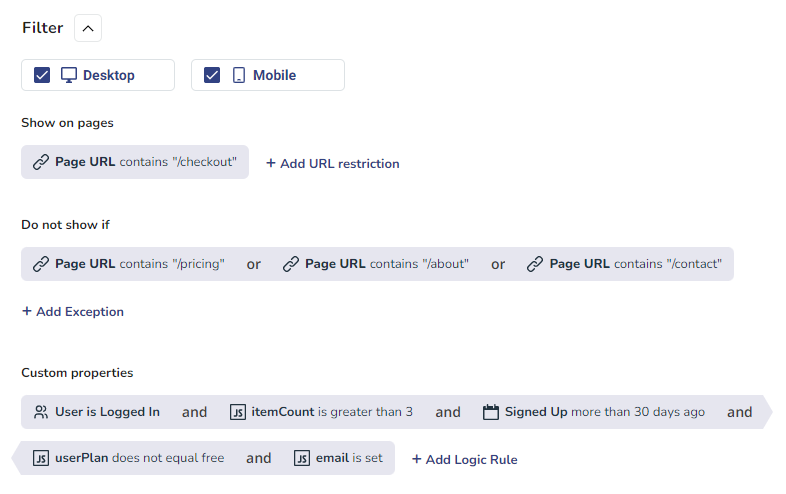 How to keep track of your NPS score over time?
Tracking your NPS benchmarks over time can show whether the changes you implement in your business are working. You can also track score differences for various segments, for example:
Customers on a paid plan
Users on a free plan
Users who've interacted with your support team
People who use your product on a daily basis
Users who login once in a while.
Appzi's reporting dashboard allows you to measure your progress over time at a glance. You can quickly assess how the score changed in the last 12, 6 or 3 months by clicking on an easy-to-use dashboard which displays all relevant data for each user segment identified through custom criteria. This gives rise into immediate action points so that it's easy for you to determine which user segment needs your immediate attention.
Closing thoughts
Net Promoter Score is a great way to see how customer satisfaction has changed over time and understand what actions will have the greatest impact on future growth. By noticing trends in users' responses, you can make adjustments that increase praise, reduce criticism and multiply profits. So, you want to know how your customers feel about your product or service? Create an Appzi account now to get started.