10 Feedback Form Examples for Websites You'll Want to Copy Immediately!
Customer feedback enables brands to know how they're doing and where they can improve. A brand's reputation is crucial to its success and feedback forms offer insights into your customers' thoughts. For a customer to feel compelled to spend the time to complete a form, it needs to be attractive, direct, and to the point. Let's take a look at feedback form examples for websites from brands that execute this strategy well.
Streamlined feedback forms allow customers to identify their area of concern and share their thoughts directly with you. In some cases, this means the issue stays off of social media and review websites, giving you a chance to resolve it privately. Other feedback might help you close gaps in your online strategy that you didn't know existed, such as glitches in the ordering process.
The best forms stand out on a brand's website to invite that feedback, and once expanded, are simple and easy to complete. Here's a look at website feedback form examples from some outstanding brands we know you'll recognize.
1. Apple Website Feedback Form Example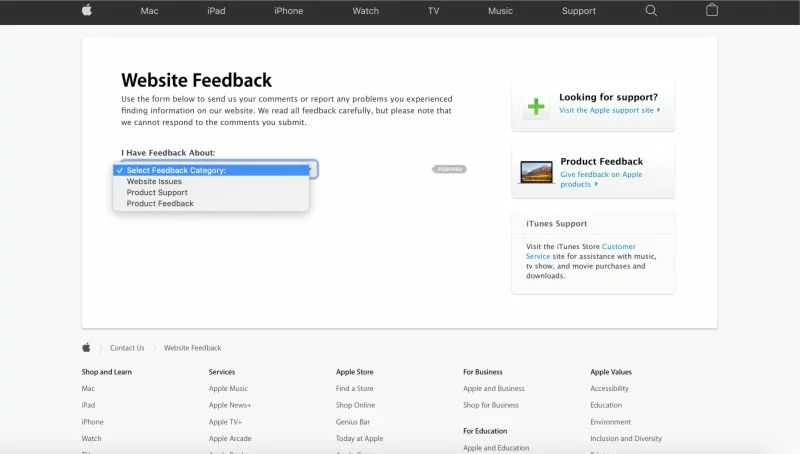 On the Contact Us page of the Apple website, you'll find an open and inviting forum to share your feedback. Apple's website feedback form example offers three categories for people to share their thoughts to ensure the feedback gets to the right department:
· Product feedback
· Website feedback
· Developer feedback
Once you make a selection, from there Apple guides you through some simple options to get your feedback to the right place. Even when you're within the website feedback option, you can still leave product feedback. This is a nice feature to offer so users don't have to navigate back and forth to other pages to get to the information they need.
One other aspect of the Apple website feedback form example that's helpful to its customers is the menu along the right. These options allow users to find other relevant information on the website, such as customer support, to ensure that the company solves the user's issue and leaves them satisfied.
2. Microsoft Website Feedback Form Examples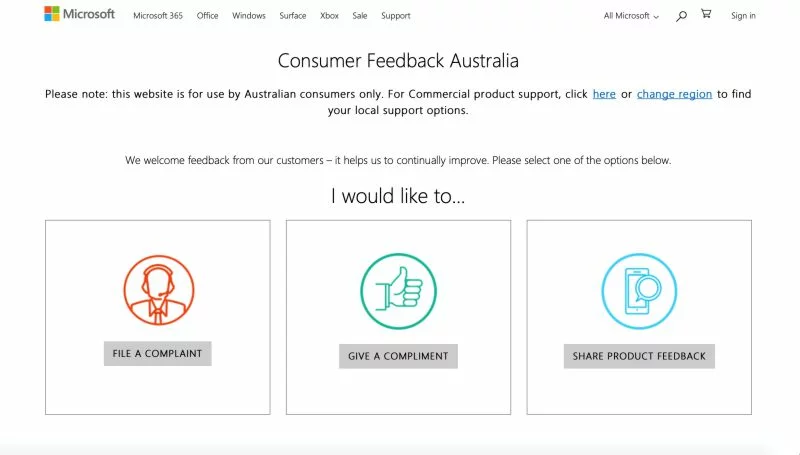 Much like Apple, Microsoft offers three categories of customer feedback. These categories include:
· File a complaint
· Give a compliment
· Share product feedback
These website feedback form examples are formatted with attractive icons that make the menu easy to navigate and understand. Additionally, at the top of the page, there's a link to reach product support so that Microsoft can resolve the challenges you're facing.
The language on the page is friendly and inviting. It says: "We welcome feedback from our customers – it helps us to continually improve."
Making it clear that your company not only accepts but welcomes feedback is a great way to invite customers to share their feelings with you personally instead of publicly.
3. Google Website Feedback Forms Automatically Includes a Screenshot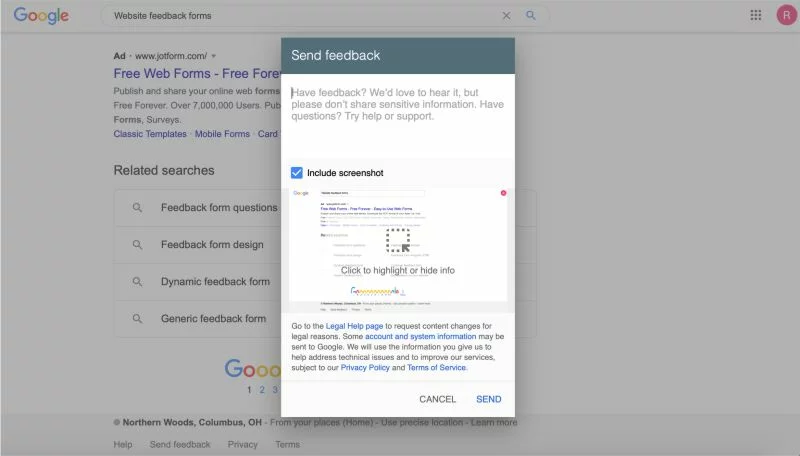 When it comes to making things simple for customers, Google is a leader in the marketplace. Their website feedback form auto fills a screenshot of the page you were on when you clicked the "Send Feedback" button at the bottom of the page.
And above the auto filled feedback form is a box for you to share your thoughts and feedback. You can check or uncheck the box for sharing the screenshot, putting you in total control of your feedback message to the company.
You'll find the "Send Feedback" button at the bottom of every page within the search engine, making it simple to share your thoughts.
4. Amazon Feedback Form Guides Users Through Its Many Products and Services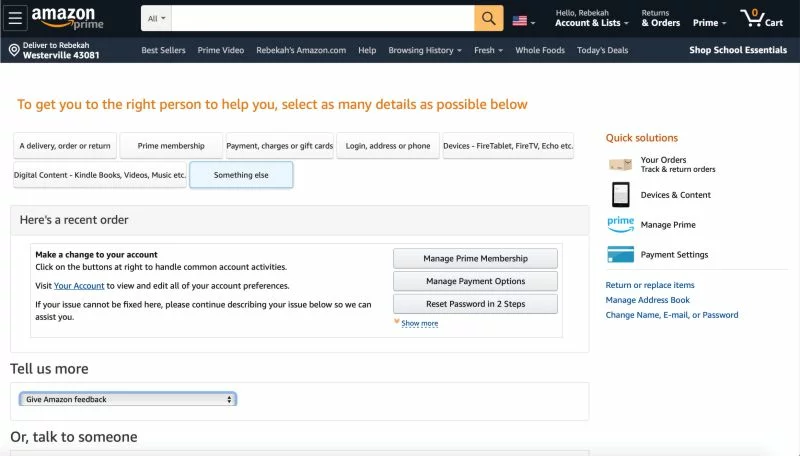 Because Amazon provides so many services, its feedback forms need to reflect that. The form opens with some common needs, such as Kindle device support, payment changes or a recent order. But if your request doesn't match one of these specific categories, you can pick the box for "Something Else."
With the "Something Else" option, there's a dropdown that enables you to share website feedback.
You'll notice a trend among these feedback form examples for websites. There's always a menu along the right with options to find support for devices and services the company offers. This is so important in making sure you're giving the customer the tools they need to solve their issue.
5. Mailchimp Persistent Feedback Button Along Right Side of Screen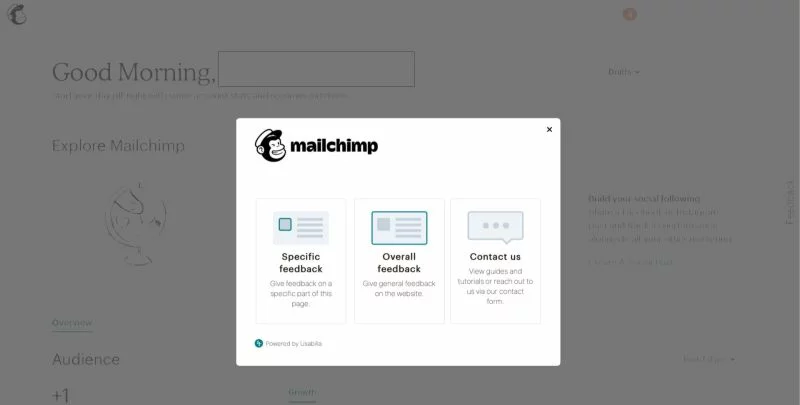 When a user is logged into Mailchimp, they'll see a feedback button along the right side of the screen as they navigate through the site. This way, any product upgrades or improvements a user wants, they can share that with Mailchimp at any time.
Once the user clicks the button for feedback, there are three options for feedback:
· Specific feedback
· Overall feedback
· Contact us
Once again, the website feedback form makes it simple to get in touch with a company representative if the customer needs specific assistance.
6. Upwork Feedback Button After Recent Site Updates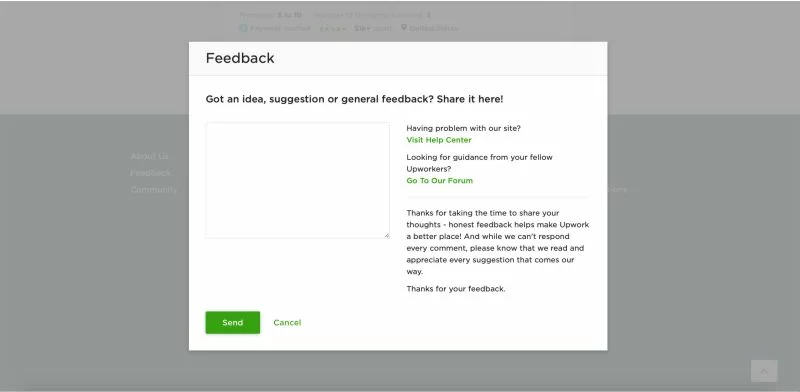 As a service that connects businesses to the gig economy, Upwork tends to deal in a fast-paced environment. While it wants to continuously improve its service, it also knows that such development can disrupt its client base.
The feedback button is always present in the footer of the site once a user is logged in. However, after large development projects or changes to the site, it surfaces that feedback button on the top of the page to invite users to share how changes to the site might be affecting them.
7. Kroger Anonymous Website Feedback Option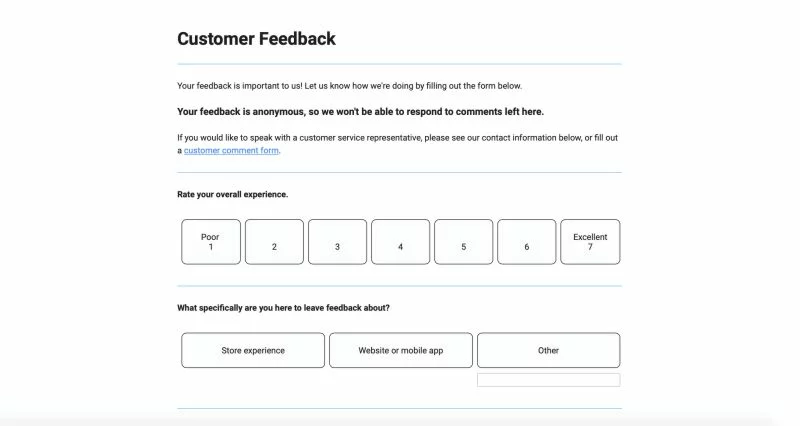 It's probably the lengthiest feedback form we've looked at so far, but it's still a good one. You'll find the feedback option in the footer of Kroger's website on every page, enabling users to submit their thoughts easily.
Customers can share how their recent in-store shopping trip was or information about how easy it is to navigate Kroger's online shopping experience. And for customers who are a bit more shy and afraid of confrontation, the online form is completely anonymous. Customers can rest easy knowing they've had their voice heard without any chance of further inquiry.
8. Walmart Simple Star Ranking Feedback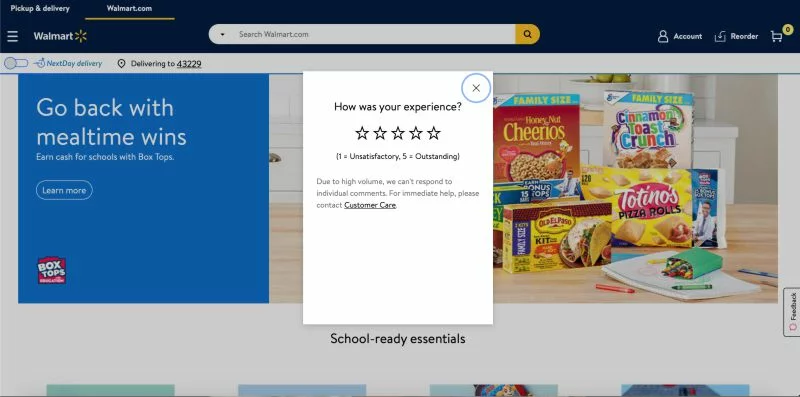 Head to the Walmart website and you'll see a feedback button along the right that follows you around. Once you click on it, this is one of the simplest website feedback form examples we've evaluated because it offers a ranking system with five stars. All this form wants to know is on a scale of 1-5 how your online shopping experience went.
Over time, Walmart can use this data to see how changes to its website affect its star rating with customers to spot trends and respond accordingly. And if customers have more to share, they can contact customer service from this website feedback form to share additional thoughts.
9. Zappos Customer Service Dropdown with Website Feedback Option
Shoe shoppers will see a bar at the top of the Zappos website with a Customer Service dropdown from any page they navigate to. From there, they have three options to get in touch with Zappos: Customer Support, FAQ, Give Us Feedback.
If you select the feedback option, you get a form with ranking scales from 1 to 10 and a few other questions. It's certainly not the simplest feedback form, but it is thorough. The form also gives users the chance to share information about their Amazon account since Amazon now owns Zappos.
10. eBay Two-question Website Feedback Form Example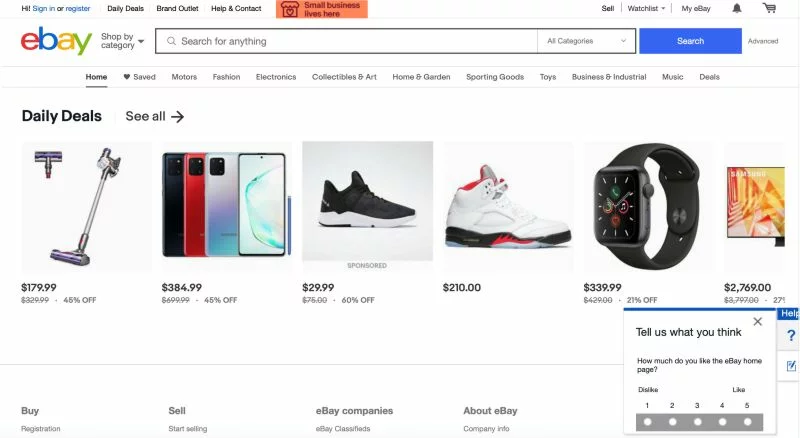 eBay offers shoppers a small Help menu along the right side of the screen. One option leads the user to FAQs while the other option gives the user a two-question feedback survey. The first question asks the user to rate their experience from 1 to 5. The second allows the user to share specific feedback about the page they're on using an open-ended question box.
This simple customer feedback option helps eBay measure its service over time as it adapts and changes. Plus, the online retailer can also spot issues and bugs through its users' feedback that it might not have known about.
How to Get Started with a Website Feedback Form
Now that you've seen feedback form examples for websites, you can check out the three ways of embedding feedback on your website, and get started collecting valuable feedback within minutes. Appzi offers a free service for brands looking to learn more about their customers and gain insights into opportunity areas. Sign up for your free account now.