How User Feedback Surveys Can Improve Your Technical Documentation
If you're part of a technical content development team, you'll probably recognize this problem.
You work relentlessly on your help center, self-service, and documentation content—making sure that the content is relevant, accurate, up-to-date, and matches the way your users interact with your product. The content you produce is a vital part of the customer journey, however, more often than not, you don't interact directly with customers.
That means you rely on customer success teams to get feedback on the content you produce. As a result, you have to deal with:
Sporadic user insights or lost feedback
Excessive and unresolved feedback loops
Difficulties in analyzing the relevance of certain content
Challenges in identifying common feedback topics and trends.
Life doesn't have to be so difficult. A neat way to bridge this gap is to start collecting user insights directly—right on your documentation website.
What are the benefits of collecting technical documentation feedback right within the website?
Collect real-time user insights
Giving your users an easy way to leave feedback on your documentation website opens an effective communication channel between your users and the content development team. They can collect qualified user insights continuously and make content adjustments based on user suggestions and recommendations. For more detailed information can also collect feedback after product onboarding.
Increase customer satisfaction and engagement
An Appzi feedback widget on your documentation website allows you to close the loop within minutes. You can let your users know that they've been heard and that you're working on improving your content based on their suggestions. And your team can notify users when their suggestions have been applied—building valuable engagement.
Centralize reporting on common topics
All the feedback captured by Appzi widgets is analyzed with artificial intelligence scripts, and lets you see trending feedback topics on an easy-to-read dashboard—saving your team significant time and resources on prioritizing content updates. Here's what a reporting dashboard might look like for you:
You can also categorize feedback using custom tags—then create a plan on how to approach different categories of user feedback. Check out this example:
Automatically push feedback to your favorite tools
Within minutes you can see the feedback in your Slack, Trello, Zendesk, Jira, Help Scout, or Asana accounts. With these integrations, feedback collection becomes an integral part of your existing workflows.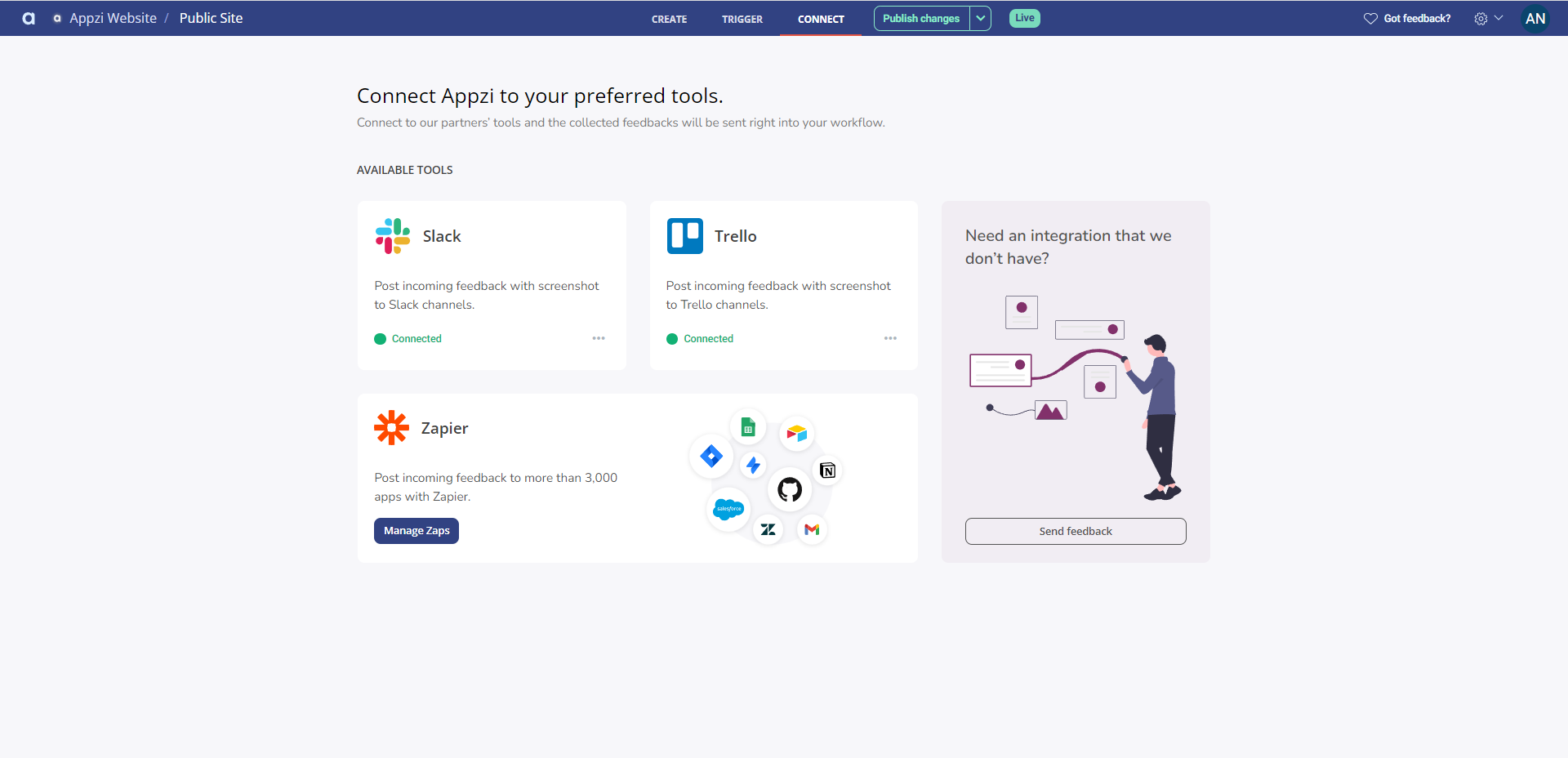 Make data-driven business decisions
Collecting and analyzing user responses is an ideal way to start improving your content—and making it more relevant to your readers. After all, user feedback is the fuel that powers your team to make informed content strategy decisions.
Embedded feedback survey templates for your content
5-star content rating
This content survey template is designed to help content writers understand how readers rate the quality of the content. We recommend embedding this survey at the end of each piece of technical content.
Content feedback through emotions
You can collect content feedback in a fun and engaging way by using our emoji survey template—discovering what emotions your content triggers in a non-intrusive way, and only targeting users who've read to the end of your content.
Gauging content helpfulness
To gauge how helpful your content is, you can use these two survey templates. The first template will give you a quick insight into whether readers found what they were hoping to find on your website. The second will uncover subtle details of the user experience and give users the option to share their thoughts with you.
We recommend using the first template for short, easy-to-grasp articles, and the second type for pages with more complex documentation.
Check out the steps Cloudera took to deliver more relevant, engaging content on their documentation website.
Next steps
The key is to focus on collecting insightful feedback from your readers. Think of ways to incentivize them to respond in as much detail as possible. For example, you could offer discount codes for constructive feedback, you could give reduced pricing to participants, or you could organize a competition and reward the winner with a valuable prize.
You can amplify the reach of any of these tactics by encouraging participants to share details of the offer with fellow users or by using auto popup surveys. It's a double win—improving the loyalty of motivated users while also promoting your surveys to the wider client base.
Also, keep in mind that a scientific approach is vital to capturing accurate customer feedback and saving valuable resources. We've researched the topic so that you don't fall into the trap of basing major content development decisions on skewed or misleading survey results—check out our post on minimizing survey bias.
If you're ready to improve your content development processes, take the first step and sign up for Appzi today—no credit card required.