The Product Manager's Guide to Product Innovation Cycle
As COVID-19 continues to change the economic landscape, the need for digital transformation has become more rapid than ever. Technological advancements have become a standard, and companies have to innovate for survival.
However, just before they can do this successfully, product managers in the software space must learn more about the product innovation cycle. If you're the product manager yourself, where exactly do you start, and what examples can you study to make innovation easier?
In this article, let us discuss:
three types of product innovation approaches
the six steps of product innovation cycle
the most famous innovations in the software world.
Why is it necessary to create a structured product innovation process?
Nowadays, businesses must continually innovate and introduce new products to the market with all the necessary digital assets that reinforce the marketing and sales initiatives of the organization.
The innovation process involves the strategic execution of new and present findings into marketable results. It starts with the generation, evaluation, and realization of ideas that contain significant value and potential for the company.
A well-established innovation process exceeds short-term solutions. It considers the overall innovation structure and culture of the organization. As these aspects are interconnected, appropriate coordination is a must to achieve a sustainable innovation process.
Building a structured product innovation process is a way of preventing this from happening. Creating it matters because it:
Allows innovation to be repeatable
Provides access to new markets and partnerships
Refines brand recognition and value
Improves employee retention and recruitment
Drives on average 11% more revenue
Companies invest an enormous amount of money on initiatives that come with risks. Studies say that 70% to 90% of innovation initiatives fail in large companies within 12 months. That's why it's highly important to choose the right approach when innovating your product.
Three Approaches to Product Innovation
1. Closed Innovation
Organizations that choose a closed innovation approach have a single dedicated team assigned to perform every innovation phase with a mission to discover new opportunities and markets for the business.
As the name suggests, the term closed innovation comes from the perspective that organizations innovate exclusively by themselves within one team. The entire process takes place within the team, and no outside forces or parties influence it in any way.
They perform every innovation within their boundaries, and as a result, every aspect of the product (technologies, processes, know-how, and intellectual property) remains under their control.
2. Co-Innovation
As the business environment becomes highly competitive, fast-paced, and saturated, some companies may find it hard to keep up with all the technological changes necessary to thrive in the competition.
Innovation performance becomes affected, and doing everything single-handedly becomes a challenge. As a result, co-innovation happens between two or more teams within the organization to increase the number of product innovation ideas and improve employee engagement.
Co-innovation utilizes several innovation teams and possibly several other departments to help identify innovative solutions for the business to chase. They may also use trusted advisors within the value chain to achieve this purpose.
3. Open Innovation
The final approach involves using dedicated teams, internal departments, partners, trusted advisors, and external participants like customers to help generate new ideas for the business. Collaborative discussions pave the way for open innovation to happen.
In open innovation, external participants could contribute innovation ideas through widgets on the website or the product (check out the world's best feedback form examples). This approach to innovation has demonstrated tremendous success in generating different ideas considering different backgrounds, education, and perspectives.
Open innovation requires the involvement of other parties beyond company boundaries in increasing the organization's innovation potential.
It includes the strategic use of the business environment in facilitating the integration of internal and external ideas, including technologies, sales channels, and processes to create innovative products, business models, and services for the company's growth.
Here is a table for your quick reference of all the benefits and drawbacks of every innovation approach listed above:
Pros
Cons
Closed innovation
1. Clearly defined goals and timeframes
2. Deep product knowledge
3. Decisions and execution are faster
4. Flexible change management

1. Limited idea generation capabilities
2. No client communication
3. Ideas may deviate from the company's vision and mission
Co-innovation
1. Clearly defined goals and timeframes
2. Deep product knowledge
3. Professional expertise and experience from different departments
4. Better alignment with the company's mission and vision.

1. Decisions and execution are slower than in closed innovation
2. More complex communication management
3. No client communication
Open innovation
1. You can hear your customers' needs and pain points
2. Idea diversification at its finest
3. Increased employee and customer retention
1. The most complex communication management process
2. The longest decision-making chain
3. Increased project costs
All of these approaches funnel plenty of ideas into a few select actionable ones that the business can implement for its innovation process steps.
However, a careful evaluation may separate ideas that are actionable today from those that may require further revisions and improvements, hence stored for innovation projects in the future.
The Product Innovation Cycle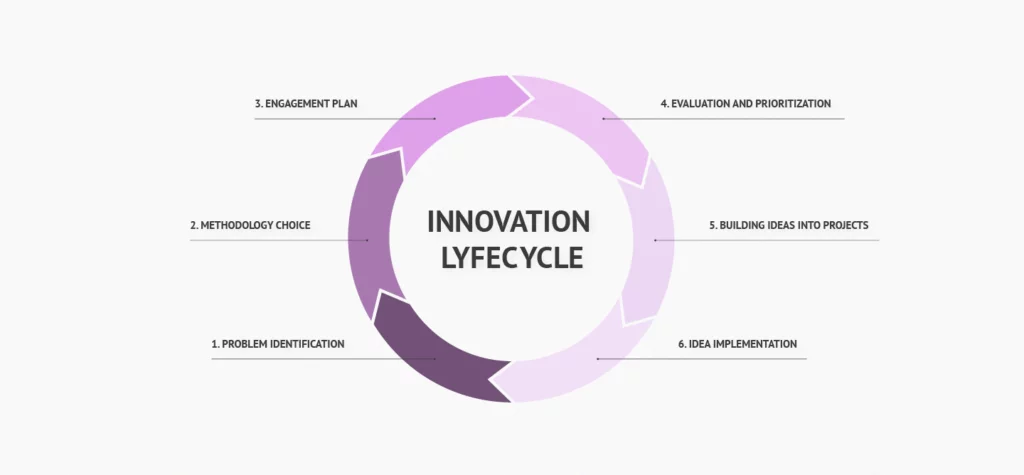 Now that you're done selecting an innovation approach, it's time to understand the production innovation cycle to successfully transform ideas into viable business models and products.
That innovation cycle includes six steps:
1. Problem Identification
The cycle starts with efficiently identifying problems that consumers encounter regularly. It involves addressing all the existing gaps within the market, including all the evolving needs and demands of your target audience.
Discovering all the difficulties and challenges of your consumers allows you to create the best solutions that can respond to their needs, making the most successful products and services in the process.
In essence, problems are the main catalysts of solutions. Identifying its root cause leads to creative and impactful outcomes.
Here are the steps that your organization can take to determine problems and identify solutions:
Gather and organize existing information. Find out who gets affected by the problem and how big the problem is. Distinguish every factor that contributes to the problem and identify when and where it occurs.
Reframe the problem. Examine it from different perspectives. Recurring problems are usually an effect of missing a necessary component in fixing them. Seeing the situation from another perspective will be helpful in decision-making.
Set clear expectations. Let your team understand what you want them to do. Your expectations will serve as their blueprint for success. Generally, doing this improves overall performance, delegates responsibility, and aligns values to behaviors.
Identify the determinants for success. Evaluate whether things have improved since then. Remember to be transparent when deciding criteria and standards. Discuss these with the rest of your team and agree on quantitative metrics.
2. Methodology Choice
Establishing organizational changes means cultivating workflows that enable the company to continue its production and development of ideas. These systems become the funnels that determine which ideas evolve into innovation projects.
Fundamentally, there are a few methodologies that have proven their effectiveness in various industries. Some businesses would like to make their own, but there are plenty of innovation processes applied by most companies today.
Here are some steps you can take:
Research all the methodologies that you can use in carrying out the organization's innovation phases. Take a look at your options and determine which one fits your company and your resources best.
Whether it be agile work cadencies, design thinking, LEAN, six sigma methodology, or human-centered design, study it very well. Determine the pros and cons of each.
Keep in mind that enforcing a process for sharing, identifying, and selecting great ideas makes innovation a repeatable practice. Establish an overview of all the options available to your team and figure out which one works great for a unique innovation initiative.
Choose the methodology that is the most beneficial for your team and customers.
3. Engagement Plan
If you choose co-innovation or open innovation approach, reach out to the collective intelligence around you and determine how other parties can contribute their ideas.
Here are suggestions on how to tackle this step:
Strive to encourage participation from employees and customers by creating incentives that will motivate them to give you the relevant information you need. Their engagement will help you remain competitive in creating value for your target audience.
Create an engagement plan that actively builds an innovative mindset on everyone involved in the process. Consider different viewpoints, experiences, and backgrounds in your company's innovation development.
Set the right conditions and incorporate technology that can make collaboration an easy task. Collectively think outside the box and generate as many ideas as possible.
These things will invoke the creativity necessary for refining processes, streamlining workflows, automating repetitive tasks, and creating great products and services.
4. Evaluation and Prioritization
Before turning your ideas into projects, reviewing and evaluating your ideas is necessary to determine which ones can become successful innovations at the right time.
Here are some principles to remember upon examining your ideas:
Companies must observe prioritization depending upon distinct factors such as the number of resources and time necessary to put these ideas into action.
Every concept must also correspond with your organizational goals to ensure commitment, engagement, profitability, and growth.
Conduct further analysis to break down the complexity of an idea. This is vital to understand what might go wrong in the process and prepare for it just in case it happens.
Determine whether or not the kind of risks are acceptable and if the forecasted returns are higher than its costs.
Considering that the company is spending on it, these ideas need to be stellar enough to strengthen the brand and open opportunities for advancement.
5. Building Ideas Into Projects
A long and successful innovation process breeds valuable outcomes. Everything starts with an intent to innovate and obtain a competitive advantage. With the contribution of your ecosystem, workforce, customers, and other related entities, building ideas into projects becomes easy.
Organizations gather valuable insights for refining processes, establishing breakthrough products and services, and disrupting markets. With a well-defined and structured routine, this information transforms into an optimal set of innovations.
Carrying out your innovation cycle time includes the following:
Choosing the right people for every innovation phase.
Selecting individuals with the right experiences, expertise, and knowledge to see every project through completion.
Double-checking your resources and allocating them properly.
Evaluating and analyzing every aspect of the innovation process.
Enhancing every idea to its core, conducting the necessary research, and looking for the right collaborators to help you out when needed.
Remember that turning innovation ideas into projects is crucial to your product's success, and it will only work if you have the right idea, approach, resources, knowledge, objectives, and people in place.
6. Idea Implementation
Transforming creative ideas into sustainable innovations involves a plan and an attuned process. No matter how sensational an idea is, it can't contribute much to your success if your implementation methods are weak.
Here are ideas on how to tackle this last step:
Plan everything ahead of time and study it from different angles to detect possible challenges. Implementing ideas takes a lot of effort, study, resources, and discipline to do.
Take responsibility for getting things done. Ensure commitment from your team and emphasize your trust by giving them their own set of tasks and responsibilities.
Enlist professional help if necessary. Work with other departments of the organization along with a well-defined set of clear and quantifiable objectives.
Establish the project timeline and substantiate a concrete roadmap for the scope of the project.
Meet with key players to discuss the project's progress and listen to every aired-out concern. Test the product as often as possible to prevent glitches and other shortcomings. Lastly, teach your customers how to use and avail of your products and services the right way.
Open Innovation Examples From Top Software Companies
Here are some remarkable innovations performed by leading companies in the software space:
1. Hackathons by Facebook
Facebook once organized an open internal innovation for their employees called hackathons, where they created new ideas and innovations together with the initial versions of their concepts.
This event was so successful that most of the features on Facebook that users love nowadays are its actual outcomes, including the like button, the live chat feature, and even the Facebook timeline itself.
There are plenty of ideas that sprouted from this process. One of them is the pride flag feature that the platform has now. This particular creation by two Facebook interns became so popular that it immediately got released for public use.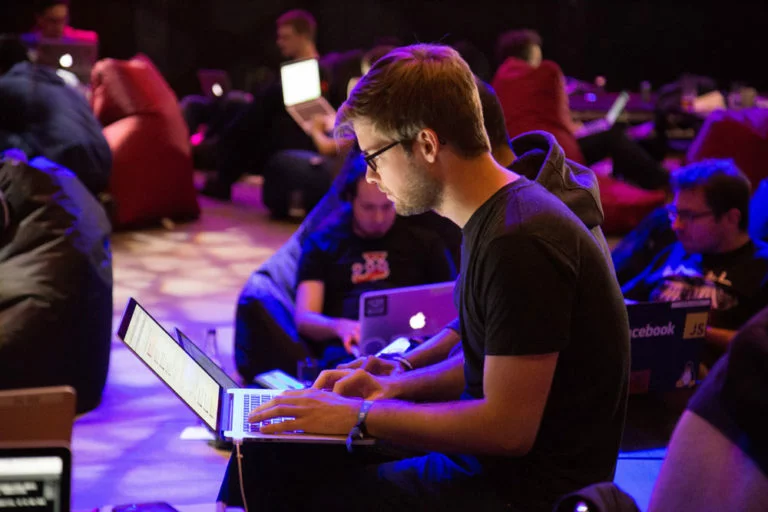 2. UX Customizations by Telegram
Telegram is a famous messaging app that works on computers and smartphones comparable to Whatsapp or Viber.
However, unlike Whatsapp, Telegram allows its users to contribute to its content openly. Users with developer skills can make stickers and bots, which the app promotes on its trending list.
Instant messaging may be a very competitive market. But Telegram has gained plenty of users because of how open it is with its audience for innovation, that it even grants prizes for new content sometimes.
This company proves that it would be beneficial for business entities to allow their users to create the kind of features they want. You, on the other hand, can then benefit from the best innovations.
3. Twitter Hack by Spotify
Spotify is a popular music streaming platform that operates with a freemium-based revenue model. It enables its users to listen to music without having to pay anything. However, advertisements may disrupt the user's experience anytime, and with free accounts, offline use is impossible.
To this day, Spotify uses its Twitter account to address the questions and concerns of its followers. Moreover, it also asks users to request new songs through their Twitter page to identify different songs and genres to add to their platform.
This way, Spotify gets to hit two birds with one stone — encourage customer engagement and improve products.
Incorporate Product Innovation Now
Hopefully, this post inspired you to come up with ways to incorporate structured innovation processes into your software products. Remember to activate your users into helping you create products that fit their preferences.
When the users interact with one another and tell you what they want to see in your app or platform, it can save you plenty of resources on market research and reduce the inherent risk in R&D.
Give your users the means for getting their voices heard. Doing this can build you a base of committed users. Just make sure to implement some of the most popular ideas and communicate them well so that your customers can feel like they truly made an impact.